November 9, 2020
Brad Barron will speak virtually on Thursday, Nov. 12
Brad Barron, president and CEO of NuStar Energy L.P., will continue the 2020-2021 Forum on Entrepreneurship Series on Thursday, Nov. 12, by focusing on the energy sector.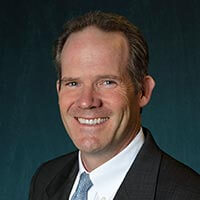 The Meadows Center for Entrepreneurial Studies at St. Mary's University will host the discussion titled, "The State of the Energy Business Post-COVID-19." The event will be held virtually via Zoom from 8 to 9 a.m.
"Brad Barron's leadership at NuStar Energy L.P. is an example of personal commitment to values," said Stephanie Ward, Ph.D., Interim Dean of the Greehey School of Business and Professor of Management. "During this Forum on Entrepreneurship Series event, our students and business community members will learn from his wisdom about how to lead, be entrepreneurial and adapt during the unexpected pandemic. The Greehey School of Business is grateful for Brad's and NuStar's continued support of our students and our community."
NuStar Energy L.P. is a publicly traded master limited partnership with more than 1,400 employees. It is one of the largest independent liquids terminal and pipeline operators in the nation. NuStar has about 10,000 miles of pipeline and 75 terminal and storage facilities that store and distribute crude oil, refined products and specialty liquids. The partnership's combined system has about 75 million barrels of storage capacity with operations in the United States, Canada and Mexico. 
"Our students, sponsors, faculty and staff will have an opportunity to hear about Brad's impressive background and leadership experience," said Sergio Palacios, Ph.D., Associate Professor of Management and Chairman of the Board of the Forum on Entrepreneurship Series. "We will get a chance to find about what makes NuStar Energy one of Fortune Magazine's Best 100 companies to work for in the U.S. and one of People Magazine's Companies That Care." 
Barron is a member of the executive committee of the United Way of San Antonio and Bexar County and is currently serving as the 2020 UWSA campaign chair. He also serves as a member of the Energy Advisory Council for the Federal Reserve Bank of Dallas, San Antonio branch; in addition to being a member of the Community Advisory Board for Haven for Hope; and a member of the St. Mary's University President's Leaders Council.
More about the Forum on Entrepreneurship Series:
The Meadows Center for Entrepreneurial Studies promotes and encourages entrepreneurial thought, business and activities locally, regionally and nationally. The purpose of the Forum on Entrepreneurship Series is to offer the larger San Antonio community and students of St. Mary's University a forum to hear from some of the most talented individuals in industry and government. Funds generated from the series support student scholarships and encourage entrepreneurial activities in San Antonio and the region.
The series will continue with discussions in February 2021 and April 2021. The series' 2020-2021 title sponsor is PwC. For information on sponsorship opportunities and individual tickets, please contact Pamela Luna at forum@stmarytx.edu or 210-436-3124.