November 30, 2020
The St. Mary's University School of Law received a $10,400 grant from the Texas Bar Foundation to encourage pro bono legal work through new remote fellowships.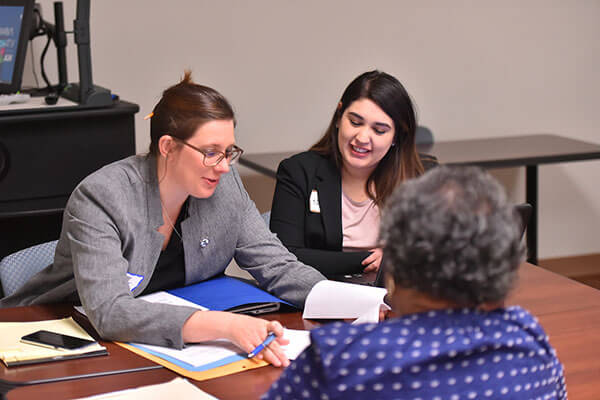 The COVID-19 pandemic has revealed social, economic and cultural challenges, particularly in the legal system, where access to justice has captured the attention of everyone from tenants and consumers to judges and policymakers.
Whether safe, secure access to an attorney for legal advice and representation, literal access to courtrooms — now being held in virtual Zoom rooms — or simply reliable legal information, the justice gap in Texas existed well before COVID-19 hit. According to a recent Justice Gap Report by the Legal Services Corporation, 86% of the civil legal issues reported by low-income Americans received inadequate or no legal help.
In Fall 2018, St. Mary's introduced a pro bono graduation requirement for J.D. students. As a result, students seek new opportunities for pro bono service. Programs like the remote fellowships will enable more students to participate and fulfill the requirement.
"The fellowships will empower St. Mary's law students to serve their communities in innovative, justice-expanding ways during the pandemic," said St. Mary's University School of Law Dean Patricia Roberts, J.D. "By offering fellowships to qualified and committed law students to take part in remote legal service delivery, this program is taking one of the legal system's most valuable resources — its lawyers-in-training — and connecting them with communities that may be far from the St. Mary's Law campus."
Despite the pandemic, law student engagement in public service in the 2019-2020 academic year rose far above the school's average. Law students recorded more than 9,880 pro bono and community service hours, an increase of more than 5% from the previous year.
"We are thankful for the Texas Bar Foundation's meaningful investment in our students' public interest work," said Gregory Zlotnick, J.D., Director of Pro Bono Programs. "In a moment when Texans across the state face economic hardship, this funding will allow law students to support the tireless efforts of legal services organizations to expand access to justice to their clients, no matter their ZIP code."
The Texas Access to Justice Commission also recently recognized the St. Mary's culture of service by presenting it with the 2020 Law School Commitment to Service Award.   
Since its inception in 1965, the Texas Bar Foundation has awarded more than $21 million in grants to law-related programs. Supported by members of the State Bar of Texas, the Texas Bar Foundation is the nation's largest charitably-funded bar foundation.
"Prior to the pandemic, we successfully collaborated with legal nonprofits agencies in nine Texas cities and Washington, D.C.," said Sister Grace Walle, F.M.I., D.Min., the School of Law Chaplain who helps coordinate pro bono service. "Currently, our St Mary's Law students have risen to the challenge of working remotely with legal nonprofit agencies across Texas as they develop new approaches to making the law and legal system more accessible to rural and underserved communities. Additionally, our recent Texas Bar Foundation award will enable law students to explore a possible career in public interest law with a paid internship during our longer winter and summer breaks."