February 11, 2019
75th anniversary of WWII internee exchanges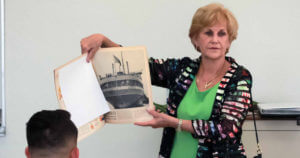 St. Mary's University is hosting a two-day commemoration of the 75th year since the internment and exchange of German-Americans during World War II. The remembrance will be held in New York and New Jersey on Thursday, Feb. 14, and Friday, Feb. 15.
The New York and New Jersey region had the highest detention rate of German-Americans in the United States, said Teresa Van Hoy, Ph.D., Professor of History at St. Mary's University. Ellis Island was a major detention center, interning hundreds of civilians, including American children.
On Feb. 15, 1944, the M.S. Gripsholm sailed from the New York harbor with 1,117 civilians of German descent, including children. These passengers were exchanged for Americans and Latin Americans held by Axis powers and many of the M.S. Gripsholm's passengers suffered bombardment and deprivation upon arrival in Germany, Van Hoy said.
Van Hoy and St. Mary's History major Nicole Johnson partnered with former internees, a surviving State Department official from the time period, and the top M.S. Gripsholm expert for this Year of Remembrance.
More than 300 St. Mary's University history students helped plan this commemoration with internees to seek official recognition of German-American internment during WWII.
"World War II child internees and their children are converging on the New York harbor from as far away as Ecuador and Berlin to remember internment," Van Hoy said. "They urge public and official recognition lest this history die with these last survivors."
The public is invited to the following free events:
Events on Thursday, Feb. 14, in the Bronx, New York
Location: Manhattan College, Kelly Commons, Meeting Room 5B, 4513 Manhattan College Parkway, Bronx
1:30 to 3 p.m.: Pop-up Exhibit and Internee Q&A: Surviving internees will create a pop-up exhibit at Manhattan College with rare memorabilia to answer questions such as "Who was on the ships?" and "Who was in the camps?" Those parking on campus should identify themselves as attending the St. Mary's University WWII event.
Events on Friday, Feb. 15, at Ellis Island
9 to 11 a.m., Ellis Island Internment Commemoration: The public is welcome to join a commemoration of those interned on Ellis Island and participate in an Ellis Island oral history project. UTSA is co-sponsoring this event.
Events on Friday, Feb. 15, in Jersey City, New Jersey
Location: Harborside Atrium, 210 Hudson St, Jersey City, next to Pier F
3 to 5 p.m., Mapping Internment onto New York: Mini-workshops will include recording testimonies, designing historical markers, building a model of the M.S. Gripsholm and other activities.
5 to 6 p.m., M.S. Gripsholm Reunion: Organizers will call the names of those internees exchanged and remember all WWII exchange voyages and internees.