November 8, 2019
Surpassing goal two years early, University increases total goal to $150 million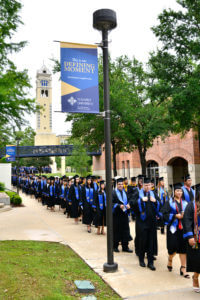 St. Mary's University celebrated one of its most significant defining moments with the announcement Friday, Nov. 8, that it had well surpassed the largest fundraising goal in its 167-year history of Catholic, Marianist education.
St. Mary's University — San Antonio's first institution of higher learning and the oldest Catholic university in the Southwest — entered the public phase of its largest-ever fundraising effort, The Defining Moment Comprehensive Campaign, in November 2017 with a goal of $130 million.
With two years remaining in the campaign, the University announced having raised $138 million on Friday at the Marriott Rivercenter Hotel. The wide-reaching fundraising effort has received gifts, pledges and grants from nearly 11,000 generous alumni and friends.
"The Defining Moment's sights are set on realizing what our Trustees, faculty, staff and I envision for St. Mary's — of becoming, as a Catholic and Marianist university, among the finest private universities in Texas and the Southwest," said President Thomas M. Mengler, J.D.
"With the success of The Defining Moment Comprehensive Campaign, and the margin of excellence this fundraising will support, we believe this vision is within our grasp," Mengler said.
On Friday, the Board of Trustees also approved an increased campaign goal of $150 million.
"The St. Mary's University Defining Moment Comprehensive Campaign is critical to the continuation of our objective to become one of the finest private universities in the region, and help us educate and guide our students so they may experience successful professional careers and serve their families and communities as effective, ethical leaders," said Michael A. "Mickey" Schott (B.B.A. '68), chairman of the Board of Trustees.
The campaign remains focused on three goals:
Promoting a culture of excellence that has led to many new endowed chairs and professorships to foster faculty excellence in teaching, research and service.
Deepening and embedding the University's most distinctive characteristic — its Catholic and Marianist identity. Examples of this include the launch of the Center for Catholic Studies and endowing a student peer-ministry program in the residence halls.
Preparing students not only to enjoy successful careers, but also to view their professional lives as vocational journeys.
"Critical to this effort is maintaining the affordability of a St. Mary's education, so that students who are drawn to the inspiring St. Mary's mission are able to enroll," Mengler said. "To this vital end, St. Mary's has received more than $50 million in student scholarship gifts and grants."
Mya Culiver, a Computer Engineering junior and Rattler Women's Basketball guard, described any financial assistance as a blessing.
"I believe we have a purpose here on Earth to love and serve others," Culiver said. "The people who have provided funds for me are a step ahead on that, and I will be doing the same when I'm in the position to do so."
The Defining Moment Comprehensive Campaign by the numbers
Total raised: $138 million
New goal: $150 million
Number of donors who gave $1 million or more: 35
Total number of donors: 10,811
New endowed academic positions: 14
New endowed scholarships: 78
New scholarship funding: $51.5 million
Funding for labs and classrooms: $11.9 million
"The Defining Moment is believing what is possible, seeing the little light bulbs go on and realizing all the things we talked about are real," said Alicia Cordoba Tait, D.M.A., Beirne Director of the Center for Catholic Studies and Professor of Music.