February 27, 2019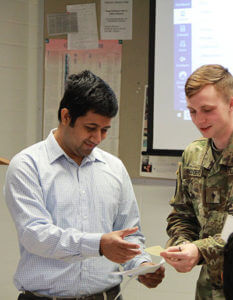 Bioinformatics is an interdisciplinary and growing field in science for solving biological, biomedical and biochemical problems by incorporating elements of computer science, mathematics and information technology. According to Sourav Roy, Ph.D., Assistant Professor of Biological Sciences and Bioinformatics Specialist, the new program will meet market demands.
"Bioinformaticians are in high demand not only in research, but also in academia and industry, because very few people have the education and skills required to fill the available positions," said Roy, who recently co-authored an article in the journal Nature that used bioinformatics to describe genome features of the mosquito Aedes aegypti, which spreads infectious diseases like dengue and Zika. "Bioinformatics is highly applicable to all branches of life sciences and also to fields like personalized medicine and pharmacogenomics," which is the study of how genes affect a person's response to drugs.
Roy said students in the program will take nine core Bioinformatics courses, in which they will learn the basics of bioinformatics, biostatistics and big data concepts. Bioinformatics majors will also choose to enroll in one of three minors: Computer Science, Biology or Applied Mathematics.
Support for the new degree comes from the U.S. Department of Education grant for STEM programs at Hispanic Serving Institutions, said Winston Erevelles, Ph.D., Dean of the School of Science, Engineering and Technology. The St. Mary's student body was 59 percent Hispanic or Latino as of Fall 2018.
"We're delighted to launch the new B.S. in Bioinformatics, which will help us implement key components of our SET Vision for Excellence," Erevelles said. "The program has been designed to provide students with breadth and depth in the course work, lots of hands-on learning and integrative experiences, including research and internships."