September 10, 2018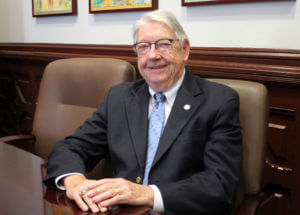 St. Mary's University welcomed Michael A. "Mickey" Schott (B.B.A. '68) as the new chairman of its Board of Trustees at a regular meeting on Sept. 7.
Schott, a certified public accountant and president of the Gorman Foundation, officially began his term as chairman of the St. Mary's University Board of Trustees on June 1.
"I am honored to have been elected as Chairman of the St. Mary's Board of Trustees. It provides an opportunity to give back to the Marianists, who have played such an important role in so many of our lives, and to work toward the success of our Defining Moment Comprehensive Campaign," Schott said. "We must continue to focus on our mission as a Catholic and Marianist University that helps form our students as well-qualified professionals and ethical leaders in their communities."
The University has also named a new chancellor, the Rev. Oscar Vasquez, S.M., who is the Provincial of the Marianist Province of the United States, and nine additional new trustees.
"These additions to our Board of Trustees will contribute to the momentum St. Mary's is experiencing," said President Thomas Mengler, J.D. "As we continue to expand a culture of academic excellence based on our Catholic and Marianist mission, the wisdom Mickey, Father Oscar and these leaders will bring to the University will leave a lasting impact."
Schott is a graduate of the Harvard Business School Owner/President Management Program. He was also a partner in the Tsakopulos Brown Schott & Anchors accounting firm before retiring.
Schott received the Distinguished Alumnus Award in 1999 and, as a former Rattler Baseball first baseman, was inducted into St. Mary's Athletics Hall of Fame in 2002. The U.S. Army veteran is a past-president of the Alumni Association. He also served on the St. Mary's Board of Trustees from 2009 to 2017.
Reflecting on the University's changes since his time as a student, Schott said the campus is "much more national and international."
The robust Fall 2018 class of freshmen is among the largest in the University's history and among the most academically gifted — with increases in both average GPA and average SAT score. The incoming class also represents greater geographic diversity — including students from 21 states and Puerto Rico, as well as 15 countries.
"There's been a continued improvement in the curriculum and the quality of the faculty and administration," Schott said. "What hasn't changed is the influence and impact of the priests and brothers of the Society of Mary. Their commitment to Mary, their commitment to education and community service, is the same today as it ever was."
More on the Rev. Oscar Vasquez and new trustees
Vasquez is a native of San Antonio. He professed first vows in 1987 and was ordained in 2005. Vasquez has a bachelor's degree from Our Lady of the Lake University and a master's in Secondary School Administration from the Pontifical University of Saint Thomas Aquinas in Rome. He has been a high school teacher, chaplain and principal. Prior to becoming Provincial, he was ministering in St. Louis as chaplain at Chaminade College Preparatory and assistant pastor at Our Lady of the Pillar Parish.
Additional new trustees include:
Brother Bernard Ploeger, S.M., Assistant Provincial, Marianist Province of the United States
Paula Gold-Williams (B.B.A. '84), President and CEO, CPS Energy
George Hernández Jr. (B.A. '74), President and CEO, University Health System
Ellen Manzullo, M.D. (B.S. '82), Deputy Division Head of Internal Medicine, M.D. Anderson Cancer Center
Michael "Terry" Martin (B.B.A. '81), Owner and President, Anodyne Wool, Inc.
Gastón Sosa de la Torre (B.A. '92), Chairman, Aktiva Capital SC
Michael "Mike" Martinez (B.A. '85), Corporate Director of Quality Assurance, C.H. Guenther & Son, Inc.
Brother Thomas "Tom" Giardino, S.M., Assistant for Special Projects, Marianist Province of the United States
Sister Laura Leming, F.M.I., Ph.D. (B.A. '79), Associate Professor, The University of Dayton