September 26, 2018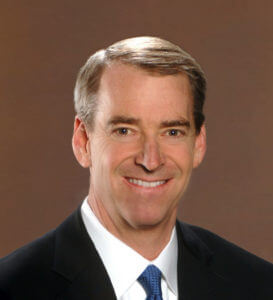 Thomas W. Horton, former chairman and CEO of American Airlines and former chief financial officer of AT&T, will be the Forum on Entrepreneurship Breakfast Series keynote speaker Thursday, Oct. 4. Horton is now a senior adviser at the private equity investing firm Warburg Pincus.
The event, hosted by the Meadows Center for Entrepreneurial Studies at St. Mary's University, will be held at the Pearl Stable of the Historic Pearl Brewery. Registration, networking and breakfast begin at 7 a.m., followed by the program at 8 a.m.
"In the Greehey School of Business, we strongly believe in connecting the classroom to the business world. Hearing from successful business leaders, such as Tom Horton, allows our students to connect the knowledge they gain in the classroom with tangible examples of the practice of business," said Tanuja Singh, D.B.A., Dean of the Greehey School of Business. "We are very grateful for Tom's willingness to share his expertise and wisdom with our students as well as with our alumni and industry partners."
In 2002, Horton joined AT&T where he served as vice chairman and CFO. In 2005, he led the evaluation of strategic alternatives, which led to merging with SBC — forming the new AT&T.
After returning to American Airlines in 2006, Horton led American through a successful restructuring and turnaround, which culminated in the merger with US Airways, creating the world's largest airline.
Following the merger with the US Airways Group, he served as chairman of the American Airlines Group until 2014. Horton was also chairman of the oneworld® global airline alliance. He joined Warburg Pincus as a senior adviser in 2015.
Horton holds an MBA from Southern Methodist University.
"We look forward to Tom sharing with us his insights on a turnaround success story as well as his insights from the boardroom," said Chris Edelen, Chairman of the Forum on Entrepreneurship Breakfast Series and St. Mary's Executive in Residence. "Tom will provide a unique perspective that I believe the audience will find extremely interesting and informative."
More about the Forum Breakfast series
The Meadows Center for Entrepreneurial Studies promotes and encourages entrepreneurial thought, business and activities locally, regionally and nationally. The purpose of the Forum on Entrepreneurship Breakfast Series is to offer the larger San Antonio community and students of St. Mary's University a forum to hear from some of the most talented individuals in industry and government. Funds generated from the series support student scholarships and encourage entrepreneurial activities in San Antonio and the region.
Steve Ison, CEO and co-founder of Rebecca Creek Distillery LLC, will be the featured speaker at the next Forum Breakfast event on Thursday, Nov. 8.
The series' 2018-2019 title sponsor is PwC. For information on sponsorship opportunities and purchasing tables and individual tickets, please contact Pamela Duffy at forumbreakfast@stmarytx.edu or 210-436-3124.