February 9, 2017
Members of the St. Mary's University
Sustainability
Committee recently received a grant from the University and Holy Rosary Catholic Church to renovate the Westminster House, a historic community house across the street from the campus.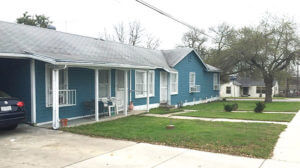 The house, which is home to several St. Mary's senior-year students in the Marianist Leadership Program, is scheduled to have numerous replacements and additions to make it more "green."
"We have already replaced air conditioning and heating units in five rooms and replaced all the interior light bulbs — about 65 — with high-efficiency LED lighting," said David Turner, Ph.D., Associate Professor of Environmental Science. "The grant also includes money for weather stripping and high-efficiency replacement windows."
Built in the 1940s, the Westminster House originally served as the rectory for Holy Rosary, said Brian Buchmeyer, Coordinator of Marianist Student Initiatives.
"Eventually, it was converted into a convent for the (Marianist) sisters, and then for the last 10 years or so, it has been a volunteer house of sorts," Buchmeyer said. "Students in the Marianist Leadership Program began living in the house in fall 2014 with the intention of being of service to the people in the neighborhood and Holy Rosary."
While the idea to renovate the house was partly borne from a student-led, semester-long project in a sustainability course taught by Turner, it also came from the University's desire to work hand-in-hand with the surrounding community to "offer some educational components to the neighborhood," Buchmeyer said.
The plan is that information from the home's upgrades will be shared with the community, Turner said.
"At the heart of the project is sustainability, which is closely linked to the idea of stewardship," Turner said. "I believe this is strongly tied to our mission, and by sharing what we learn, we can help the community and the congregation at Holy Rosary Church improve their homes, save money, and perhaps link St. Mary's to the neighborhood."