October 6, 2017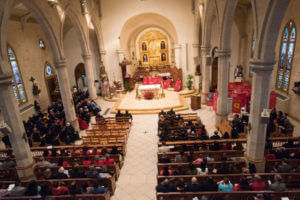 The San Antonio legal community will join together at San Fernando Cathedral on Thursday, Oct. 12, to take part in a centuries-old tradition called Red Mass to celebrate the beginning of the judicial season.
At 5:45 p.m., judges and legal organizations will have a procession carrying bright red banners through Main Plaza to the Cathedral at 115 Main Plaza. The Mass will begin at 6 p.m. and is open to the public.
"San Antonio is fortunate to have this rich historical center of Main Plaza and San Fernando Cathedral as the site for the 65th annual Red Mass," said Sister Grace Walle, St. Mary's University School of Law Chaplain and event organizer. "At this crossroads — where faith and law intersect — Red Mass will gather all in a prayerful request to God to help and bless the legal community in fulfilling their duties in an upright and just manner."
The Most Rev. Gustavo García-Siller, M.Sp.S., Archbishop of San Antonio, will be the principal celebrant. The Hon. Kevin Patrick Yeary, Justice of the Texas Court of Criminal Appeals and a 1991 graduate of the School of Law, will offer welcome remarks. The Rev. Jason Martini will be the homilist.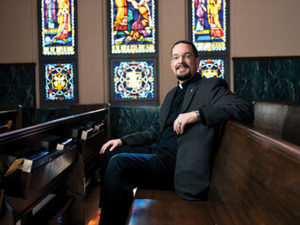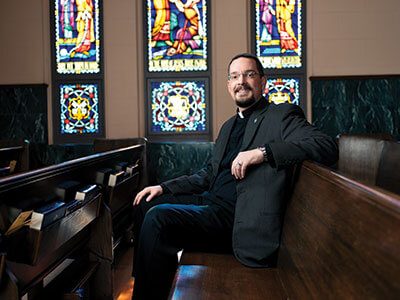 Martini earned his J.D. from St. Mary's University School of Law in 2002 and worked as prosecutor in the Bexar County Criminal District Attorney's Office before being ordained in order to "help all of those people who were suffering and ended up in the justice system or who realized that when everything was stripped away, only faith remains."
The tradition of Red Mass dates to 1245 in Europe when both the bench and bar attended the Mass together at the beginning of each judicial session. The name is derived from the scarlet robes worn by judges and red vestments worn by priests in honor of the Holy Spirit. Red Mass is celebrated throughout the country to request God's blessings and guidance on the administration of justice.
The St. Mary's University School of Law and the Catholic Lawyers' Guild of San Antonio revived the tradition 65 years ago and organize the annual event with representatives from San Antonio legal organizations, the judiciary and the State Legislature.