by Jennifer R. Lloyd (M.B.A. '16)
The Rev. Jason Martini (J.D. '02) sensed a calling to join the priesthood from an early age. He remembered first feeling the pull after First Communion when he started serving at Mass.
But it was not until he had finished his law degree at St. Mary's University and spent a stint as a prosecutor in the Bexar County Criminal District Attorney's Office that he pursued this higher calling.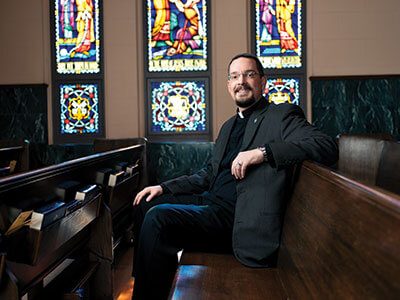 "Once you start law school, you better finish, especially if you get past the first year. And I did," said Martini, who is now Parochial Vicar for St. Peter Prince of the Apostles Catholic Church in Alamo Heights and Our Lady of Grace Catholic Church in the Monte Vista neighborhood of San Antonio.
"I was really hoping that I would fall in love with practicing law. I got a job at the DA's office and started trying cases, and I loved it. It was everything I thought it would be and tremendous fun — a great challenge."
While attending the School of Law, Martini said the Catholic identity, Marianist imprint and social justice aims were presented in a balanced way through the legal training for students of all faiths.
"Everyone felt comfortable, welcome, invited, and they had a sense of belonging there," Martini said. "But if you wanted to really get involved in your Catholic identity, there were opportunities there as well."
After graduation, he spent five and a half years with the DA's office, most of it in the trial division working on violent crime cases. When he started, he had an "amazing sense of 'I'm doing justice. I'm doing such a good thing for society, cleaning up the streets.' "
Over time, his attitude shifted. He saw defendants sentenced for a drug crime, and then soon saw them back on the court docket later for a worse crime.
He recalled interviewing the mother of a murder victim as he prepared to try the case, and she took the conversation in the unexpected direction of faith.
"She said, 'I just wanted to tell you that I have been praying for this person who murdered my son,' " Martini recalled. "I didn't really know how to respond. It was out of my area of expertise."
Faith also came up in court during victim impact statements before the offender was sent to prison. Sometimes, he said, the family of the victim would tell the offender they hoped the person would burn in hell.
But he also saw one victim's family take an alternative approach, saying to the offender, "We've been praying for you, and we forgive you, and we hope God forgives you too."
"It completely changed the whole environment of the courtroom," Martini said. "Everyone was just quiet and listening and was kind of in awe of what was happening."
After much prayer, Martini discerned that God's plan would take him away from legal work. Martini said the plan "was to really focus on and help all of those people who were suffering and ended up in the justice system or who realized that when everything was stripped away, only faith remains."
He entered the seminary in August 2008 and was ordained in May 2015. He served as parochial vicar in Gonzales and as administrator of a parish in Uvalde before coming to his position in San Antonio. This summer, he expects to transition to campus ministry at the University of Texas at San Antonio.
After his time in the DA's office, he said, nothing he hears in confession surprises him. He said his approach is, "Okay, let's see how we're going to deal with this."
"The crises that people encounter by getting wrapped up in the justice system, in many ways, are the same crises we encounter here in our daily lives," Martini said. "We have problems and decide we need to turn to something. Hopefully, it's turning to God."