By Jasmine DeLeon (B.A. '11, M.A. '15)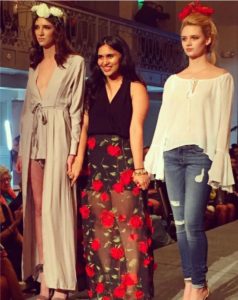 When she was a little girl, Chantel Avila (B.B.A. '15) wanted to be a lawyer like the character Elle Woods in the movie Legally Blonde. But Avila didn't want to be a lawyer — she just really loved the character's extensive wardrobe. At age 9, Avila asked her mom to buy her a sketch pad that she quickly filled with drawings of clothing designs.
Now, at 24 years old, it's fitting that the St. Mary's alumna has turned her passion for fashion into a business of her own.
After earning her bachelor's degree in Business Administration and working as a sales manager for a high-end graphic T-shirt company based in Texas and California, Avila decided to launch her own online fashion boutique, Joyee Boutique.
"The inspiration behind Joyee is my San Antonio and Texas roots," she said. "The majority of the companies that I work with are from Los Angeles, New York, London and Australia, so I try to incorporate my roots in the way I style an outfit, while still keeping up with current fashion trends."
With every startup business, there are challenges. Avila has tackled her business challenges by putting her entrepreneur skills to work. She realized that she needed to do things differently to retain current customers and build new ones, so she set up local pop-ups for her boutique, which quickly led to an increase in social media followers. Soon, her sales jumped, with customers from across the United States.
Recently, Joyee Boutique's clothing was showcased on the runway at the Look Local Fest at the St. Anthony Hotel in downtown San Antonio, which highlights small fashion boutique owners.
"It was great exposure for Joyee," Avila said. "We had amazing feedback after the fashion show. Hearing how great of a response my boutique had to the public who attended the event is such a great feeling."
"It was an event that highlighted the importance of small businesses and shopping locally. It featured many women business owners, and that was a great way to show women empowerment in small businesses," Avila said.
As a young female entrepreneur, Avila hopes to soon build a brick-and-mortar store for Joyee Boutique. In the meantime, her customers — "fashionistas," as Avila calls them — can continue to shop at Joyee Boutique online or at local pop-ups.