by Destinee Russell, second-year law student
The Child Protective Services Seminar may be among the first writing seminars in the country to offer a combination of applicable law, skills, pre-trial and trial procedure, drafting, case analysis and client representation — as well as multiple perspectives on Child Protective Services. The National Association of Counsel for Children has indicated that it hopes other law schools will follow St. Mary's Law's lead in creating seminars with this focus.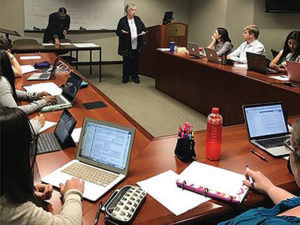 "Everyone comes to law school with a notion of saving the world and making things right," said Rosie Gonzalez (B.A. '87, J.D. '01), an attorney and child welfare law specialist who is a volunteer course instructor. "This seminar is the perfect opportunity for students" to learn the skills and practical application of law required to help a critically important population.
Professor of Law Ana M. Novoa created the course with support from Gonzalez, the National Association of Counsel for Children and the Honorable Peter Sakai of the 225th Judicial District Court of Bexar County. Generally, attorneys are required to be licensed for one year and complete a course before they can take appointments in the abuse and neglect docket. But students in the seminar will be allowed to take appointments as soon as they are licensed.
"It takes a special kind of person with particular skills to be able to be an attorney in this docket," said Novoa of dealing with this emotionally challenging legal content. "We have an obligation to teach that to students, just like we have an obligation to teach skills."