April 27, 2017
Cisneros to host documentary preview, never-before-seen artifacts, Cinco de Mayo-style fiesta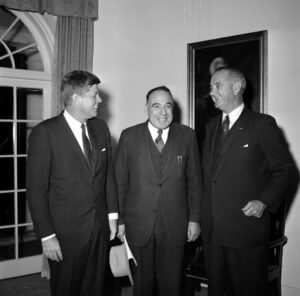 The St. Mary's University School of Law will honor the culmination of the centennial year of Henry B. González's birth with a Gran Final celebration on May 3.
The Honorable Henry Cisneros, former U.S. Secretary of Housing and Urban Development and mayor of San Antonio, will be the master of ceremonies. The public is invited to attend the event, Wednesday, May 3, from 5 to 7:30 p.m. in the St. Mary's University Center, Conference Room A.
Born during the Mexican Revolution to parents who fled its violence, González (LL.B. '43, LL.D. '65) became the first Hispanic Texas state senator, then the first Hispanic to represent Texas in the U.S. House of Representatives. Throughout his career, he championed social justice in the tradition of his alma mater, the St. Mary's University School of Law – a legacy that has been continued by his family members.
"When Henry B. was born a century ago, America had much to learn about the gifts that Mexican-American families were eager to contribute," said Stephen M. Sheppard, J.S.D., Dean of the School of Law. "His leadership as a civic official, senator and congressman not only paved the way for America to enjoy these gifts, but also strengthened America's democracy. We celebrate his life and contributions and their continuing significance to American law in what would have been his centennial year."
The Gran Final will include a preview of a documentary on his life and legacy with interviews of many well-known local and national politicians, such as U.S. Senator Jack Reed of Rhode Island.
"He cared deeply about people, and it showed," said Reed in the documentary. "I must say, I can't think of anyone I respect or admire more."
The event will also include the first public viewing of the declassified FBI file of Henry B. González. The FBI file includes revelations regarding the five death threats he received in the 1970s and reforms he proposed to FBI officials in the wake of a Civil Rights-era church bombing.
Also on public display for the first time is the John F. Kennedy Profile in Courage Award given to González in 1994 and footage of the award ceremony honoring his efforts investigating the savings and loan crisis and sparking reform while he was Chairman of the House Banking Committee.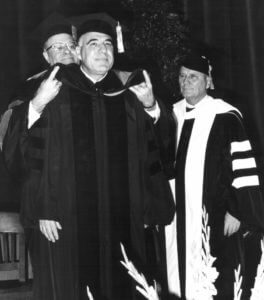 The Gran Final is a collaboration involving the School of Law, St. Mary's Professor of History Teresa Van Hoy and her Public History students, and the González family.
For this first-of-its-kind documentary and exhibition, Van Hoy said her students spent a year on the project and "discovered not only the accomplishments that Henry B. achieved at every stage of his public life, but also the great price he paid in hate mail, death threats, assassination attempts and separation from his loved ones."
"The life and lifework of Henry B. González offers us all a chance to rediscover a bygone ethic of service, integrity and unity that bridges racial and political divides," she said.
The González family has shared their private collection of memorabilia and taped interviews for the project. Henry González III will also offer a tribute to his grandmother, Bertha González, during the event.
"The telling of my father's role as a public servant has never been fully explored," said the Honorable Charles "Charlie" González, son of Henry B. González. "St. Mary's University has conducted a yearlong review of voluminous private and public records which offer a never-before-seen glimpse into my father's career. It is fitting that the fruits of the University's labor be shared with those my father dedicated his life to serving – the people."
Sheppard said the School of Law is "proud to have Henry B. as one of our distinguished alumni" and thanks the González family for their support over the years.
After the formal ceremony ends at 7 p.m., the School of Law invites guests to stay for a re-enactment of the annual Cinco de Mayo/birthday fiestas that Henry B. hosted in Washington, D.C.