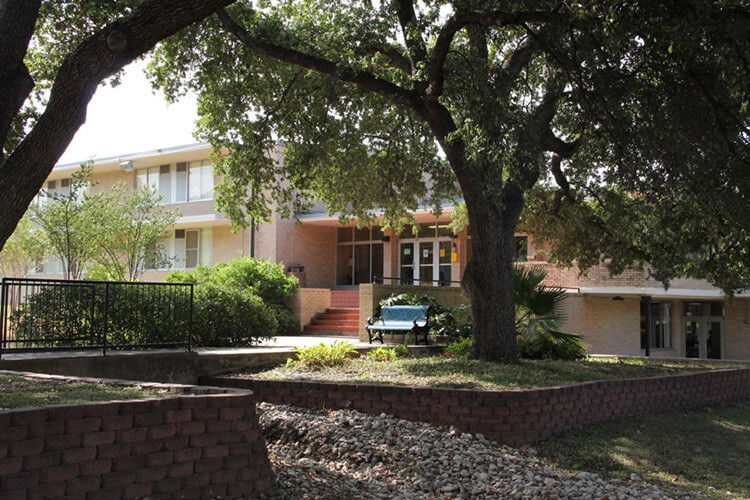 Marian Hall is home to our Biology and Science Learning Living Communities, which include biology, pre-health, science, technology, engineering and mathematics majors from all undergraduate classifications. In order to live in this building, residents must be pre-approved by the Marian Hall Director and complete an agreement to participate in the Biology or Science LLCs.
This three-story building has interior entrances to the suite-style rooms with two people assigned to each room that are the same gender by room and suite. Each room has built-in closets, drawers and a sink, and each resident has a desk, chair and twin bed that can be rearranged in the room.
Quick-View Features
 $3,265 (Per semester in 2018-2019)
Freshman hall
Biology and Science LLCs
 Double room
 Suited bath
 Same gender by suite
Hall Information
Marian Hall Office
210-431-2103
---
---
---
Furniture
Twin bed
Desk
Chair
Built-in closet and drawers
Sink

Amenities
Moveable furniture
Common areas
Ping pong tables
Dry erase tables and boards
Central to campus

---
Biology LLC
The Biology Living Learning Community is for freshmen Biology majors that are academically driven and interested in a career in the biological sciences and related professional fields. As a part of this community students will attend programs, live, study, and attend classes with highly motivated students with the support of faculty members from the Department of Biological Sciences.
Science LLC
Students majoring in the sciences – from forensic science to biology, engineering to computer science – are invited to join the Science Living Community. Live down the hall from your classmates and in the same building as upperclassmen studying similar subjects. This community partners with the School of Science, Engineering and Technology to host programs throughout the academic year and invites faculty to visit the halls and share their passion and experiences.
Office of Residence Life
The Village at St. Mary's
Leies Hall, Rooms 101-105
Office Hours
Monday through Friday
8 a.m. to 5 p.m.