by Anndria Flores (B.A. '12, M.A. '16)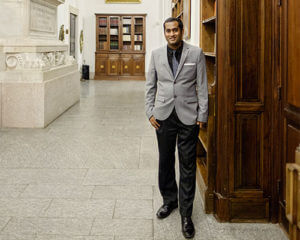 Sight unseen and armed with faith, Anthony Selvanathan traveled more than 3,600 miles from his home in Hawaii after graduating from Chaminade University to pursue a Master of Arts in Theology at St. Mary's University.
Selvanathan felt that his journey was part of a calling: to use and expand his knowledge of religious studies to help people navigate their spiritual journey with God.
"I've always been involved in ministry since I was a kid. My family has a strong commitment to the Blessed Virgin Mary, so coming to a Marianist school made sense.
We look to Mary as a model we should strive to emulate," he said.
Soon after arriving at St. Mary's, he had an offer to work with Todd Hanneken, Ph.D., Associate Professor of Theology, as a graduate researcher.
Hanneken's Jubilees Palimpsest Project uses state-of-the-art imaging technology that he developed to reveal writings in ancient books and manuscripts that have not been visible to the human eye for hundreds of years.
In January, Selvanathan headed to Milan, Italy, where he spent five weeks working in the Ambrosian Library, one of Milan's first public libraries, established more than 400 years ago. He joined Hanneken and other scholars, discovering and photographing erased writing in the Jubilees, a biblical text written around the time of Christ. Together, they stared history in the face.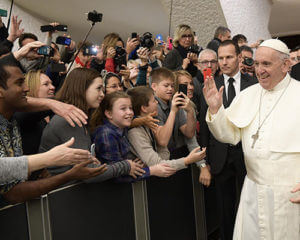 For the aspiring theologian, it was inspiring to see Hanneken and other scholars pick up archaic manuscripts and translate ancient Greek and Latin.
"Dr. Hanneken knows so many languages, and the versatility of his technology is not limited to just studying manuscripts or writings, but can be used to study and examine artwork and artifacts as well," Selvanathan said. "Working with him was one of the biggest benefits."
And, thanks to distance learning, Selvanathan continued his graduate course work while there. With history literally at his fingertips, class discussions came to life.
"We would talk about something in class, like where St. Paul was martyred, and I could say, 'I've been to that place.'" he said.
Selvanathan also met Pope Francis while sightseeing in Vatican City, and a Vatican photographer captured the moment. "It was really indescribable," he said. "When Pope Francis looks at you, he makes you feel like you're the only person in the room. You feel like the presence of God is in him — he radiates that."