About the program
The Master of Arts in Clinical Mental Health Counseling program educates students to become professional counselors prepared to meet the needs of diverse populations in South Texas and in the nation. Course work and clinical experiences help students formulate their personal approach to counseling, while allowing them the opportunity to demonstrate personal growth and development for enriching careers as counselors.
The program is accredited by the Council for Accreditation of Counseling and Related Educational Programs (CACREP), a specialized accrediting body recognized by the Council for Higher Education.
The master's program provides personal attention to students as they prepare to become successful, licensed professional counselors who help clients with a variety of problems and circumstances, including normal developmental issues, such as identity development, aging, grief and loss; career issues, such as unemployment and underemployment; social issues, such as family and community violence; interpersonal issues, such as marriage preparation, separation, and divorce; and mental health disorders, such as anxiety and depression. Students are trained to work respectfully with clients of all ages and from all cultural, economic, religious and family backgrounds. The degree plan is structured for either full- or part-time study, and includes several semesters of clinical experience.
The Clinical Mental Health Counseling Program meets the education requirements for licensure by the Texas State Board of Examiners of Professional Counselors. Upon graduation, students are prepared to work in institutions and agencies offering counseling services, including alcohol and drug treatment facilities, social service agencies and hospitals. After the post graduation supervised experience required for full licensure, many graduates pursue private practice. Some graduates continue their education by enrolling in a doctoral program that prepares them to train and supervise counselors.
Clinical mental health counselors have the ability to implement education, preventive and remedial programs.
The academic requirements for licensure as a Professional Counselor in the state of Texas can be met by completion of the program. Students desiring licensure in another state should ask the graduate program director to design their degree plan to ensure that they meet the academic requirements for licensure in that state.
Students can pursue the following degree option:
Master of Arts in Clinical Mental Health Counseling
View the Master of Arts in Clinical Mental Health Counseling Admission Requirements
Courses and Degree Plan
View the Master of Arts in Clinical Mental Health Counseling Degree Plan
For information about candidacy, comprehensive exams or thesis requirements, contact Melanie Harper, Program Director, at mharper@stmarytx.edu.
Program Objectives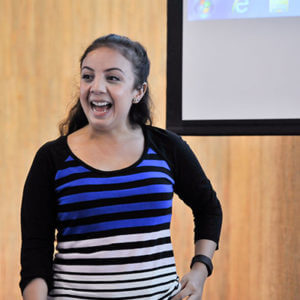 Objective 1: Professional Identity – a successive understanding of the professional counselors' integrated roles related to the management and oversight of ethically sound clinical services in a variety of community contexts and clinical settings.
Over the course of the program, students are measured through the completion of the following: creating and responding to clinical vignettes, presenting and responding to cases in clinical courses, developing a crisis intervention video plan presentation, responding to ethical dilemmas and collaborating with others in the department and in the community during clinical courses and for course projects.
Objective 2: Counseling, Prevention and Intervention – knowledge and practices regarding a systematic approach to creating and maintaining collaborative service plans and advocacy needs in response to diverse community, wellness and mental health issues and crises.
Over the course of the program students are measured through completion of the following: developing wellness plans; developing crisis assessment and treatment plans (to include considerations for addiction, co-occurring mental health issues, etc.;) completing a community and social justice project; developing a genogram; writing a paper outlining their development over the lifespan in relation to family, peers, community and other sociocultural contexts; and writing a mental health status exam paper on the protagonist in the movie that depicts a crisis.
Objective 3: Diversity and Advocacy – understanding of the ways in which privilege and oppression operate in relational and socio-political cultural contexts and impact therapeutic relationships, theoretical modalities, community resources (or a lack of) and advocacy needs.
Over the course of the program, students are measured through the completion of the following: making a class presentation on human development through a sociocultural lens, participating in an immersion project designed to broaden sociocultural perspectives, creating a "power line" designed to examine identity markers that indicate sources of privilege or oppression in their lives, writing reflection papers on social status and completing the sociocultural portion of the Clinical Case Conceptualization Position Paper.
Objective 4: Assessment – ability to create and obtain culturally sensitive and competent case conceptualizations and biosocial and mental health histories and to utilize and interpret assessments in ways that insure treatment interventions (including referrals, counseling and psychotropic medication considerations) are consistent with clients' respective developmental contexts.
Over the course of the program, students are measured through the use of the following: presenting cases in their clinical courses; performing a client autopsy based on the creation of a client crisis, preparing a comprehensive treatment plan and resolution; researching the levels of bias and practicality of assessment tools, consulting with a psychiatrist in clinical courses, creating biosocial histories for the clients they see in the Counselor Education and Family Life Center and writing a mental health status exam paper on the protagonist in a movie that depicts a crisis.
Objective 5: Research and Evaluation – Use of research techniques including: identifying and applying cutting edge, outcomes-based treatment modalities relevant to their clinical practice and evaluating the effectiveness of counseling interventions and programs.
Over the course of the program, students are measured through completion of the following: writing a literature review, creating a community counseling project that includes program evaluation and researching evidence-based treatments in evaluating counseling outcomes.
Objective 6: Diagnosis – understanding and working knowledge of mental health diagnoses, diagnostic criteria and diagnostic tools and their relevance in relation to clients' health, psychosocial stressors and crises and how to collaborate with other mental health professionals in the interest of clients in a variety of contexts and circumstances.
Over the course of the program, students are measured through completion of the following: writing a paper on a clinical diagnosis, creating a role-play video during which they conduct a mental health status exam and writing a mental health status exam paper on the protagonist in a movie that depicts a crisis.
Program Expectations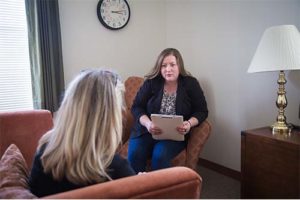 Prior to graduation, students are expected to:
Understand the essential elements of the counseling profession and related human services professions and the distinctive contributions of each in meeting the needs of the various client populations.
Understand the principles of effective counseling and the processes of bringing about positive change within the counseling setting.
Understand theories, skills, techniques and philosophical foundations of clinical counseling.
Demonstrate the counseling competencies necessary to work in a professional capacity with a broad range of client populations and client issues.
Understand the characteristics of various social, cultural and ethnic groups and the impact these characteristics have on the counselor and the counseling profession.
Understand the responsibilities inherent in the roles and functions of the professional counselor and the social, legal and moral obligations created by the professional counseling relationship.
Demonstrate the ability to work effectively with human services professionals from a variety of human service disciplines (psychology, psychiatry, social work, pastoral counseling, etc.)
Demonstrate the skills required for effective client evaluation and assessment, treatment planning, implementation of appropriate counseling strategies and techniques and follow-up.
Financial Aid
St. Mary's offers various scholarships, grants and assistantships to graduate students. Military, their dependents and Department of Defense employees may be eligible for a tuition discount. Please contact the Office of Financial Assistance at 210-436-3141 or finaid@stmarytx.edu for additional information or visit www.stmarytx.edu/finaid.
Contact Us
Francis Farrell, Administrative Assistant
210-438-6400
ffarrell@stmarytx.edu
Learn more about the St. Mary's Master of Clinical Mental Health Counseling Program
Loading…