One in five U.S. adults experiences mental illness, according to the National Alliance on Mental Illness.
But help is on the way. The Bureau of Labor Statistics projects that employment of substance abuse, behavioral disorder and mental health counselors will grow 25% this decade.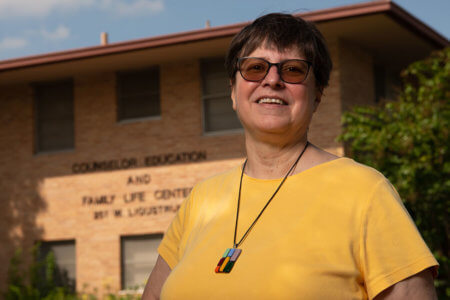 In San Antonio, many of these future counselors get their start at St. Mary's University, where the Master of Arts in Clinical Mental Health Counseling degree has experienced tremendous growth.
During the Fall 2020 semester, 69 students were enrolled in the program, making it the second most popular graduate program.
Program Director Melanie Harper, Ph.D., encourages students from all walks of life to enroll. Since she joined St. Mary's in 2007, Harper has taught students from India, Saudi Arabia, Peru and Turkey, as well as those coming from careers in the military, education and waste management.
"I've taught people in their 80s all the way down to those who came straight out of undergrad."

Melanie Harper, Program Director
Although Harper's students come from different backgrounds, she has noticed among them a commonality: the desire to help others.
"They're looking around and saying, 'I want to do more. I want to make more of an impact,'" she said.
Asia Robinson enrolled in the program in Fall 2020 after completing a bachelor's degree in her hometown of St. Louis. She chose St. Mary's because of the private, liberal arts atmosphere.
"People go to counseling because they're discouraged," she said. "They're looking for a better understanding of themselves and life."
She wants to help alleviate the stigma surrounding counseling among African Americans. The populations she's interested in working with are children, people with disabilities and those experiencing homelessness.
"I'm still exploring," she said. "My classes are teaching me about myself and how I will be as a professional."
After earning a master's degree in Sociology from the University of North Texas and working as an adjunct professor, Benjamin Tolleson was at a career crossroads when a colleague suggested he join the mental health field.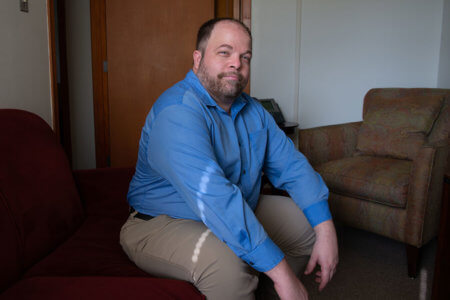 "I was pondering and praying about it, and then I had three people on three different occasions tell me stuff they had never told anyone," Tolleson said. He knew then that he was onto something and enrolled at St. Mary's in Fall 2019.
He hopes to help young adults, like those he once taught, or clients who have experienced trauma — a population he worked with during his practicum at the Family Life Center at St. Mary's.
"People are recognizing the need for mental health right now," Harper said.
She believes widespread traumatic experiences, such as the COVID-19 pandemic and mass shootings, have contributed to a shift in the perception of mental health. The growth of the program at St. Mary's is no surprise to her.
"Students are interested in counseling because they want to help people, especially the disenfranchised," she said. "They look at the mission of the University being tied so closely with social justice and it's not a hard sell."