From helping her community in her native Ghana by starting her first corporation at the age of 11, to years later receiving the U.S. Presidential Lifetime Achievement Award, Brenya Twumasi, J.D. (M.A. '98), has lived to serve.
"I was stunned when I heard that I'd been given the award," she said, adding with a laugh, "I was in the fetal position all day!"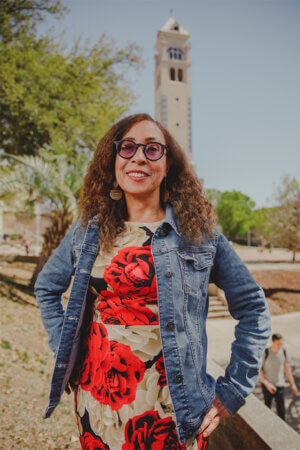 The Caribbean and African Faith Based Leadership Conference nominated and vetted Twumasi for the award, which honors those who have contributed more than 4,000 hours of volunteer work in their lifetime.
A University of Texas at San Antonio student who Twumasi mentors and who was interning at the White House at the time, received the award in Twumasi behalf at the September 2022 gala and brought it back to her in San Antonio.
Like her education and career path, Twumasi's volunteering touches on three areas — law, criminal justice and psychology. Before earning a graduate degree with honors in Counseling from St. Mary's University, Twumasi received a bachelor's in Political Science from Johns Hopkins University and a J.D. from the University of Maryland School of Law.
Arriving in Maryland at age 19 marked her first trip away from her family in Ghana. She brought to America habits created from a strong family foundation, including listening to the advice of elders. They taught her about following a flow in life that adhered to her principles.
Growing up, her father would host community leaders at his home. Both her parents, who were nurses, taught her and her siblings the importance of taking care of themselves and their community.
Her first venture in this regard was as a pre-teen when she and two friends created a corporation that they called the Perfect Peace Club. The organization continues today, called C4C: Kaleidoscope, which helps child victims of trafficking and sexual assault and other at-risk youths.
Vulnerable children became her focus as she became an adult. Twumasi served as the State of Maryland's child abuse and neglect specialist. She's served on a number of local councils as well, such as the Bexar County Reentry Center, the National Association of Professional Women and the San Antonio Criminal Justice Action Coalition.
St. Mary's Professor of Philosophy James Greenaway, Ph.D., worked with Twumasi on projects raising awareness of human trafficking and modern-day slavery in Texas. Greenaway, who holds the San José-Lonergan Chair in Catholic Philosophy at St. Mary's, called Twumasi "inspirational" and said her work embodies the University's Marianist mission.
"She integrates faith and her prodigious interdisciplinary learning in practical ways for service, justice and peace."

James Greenaway, Ph.D., Professor of Philosophy
"This was evidence of the courage, the charitable demeanor and the authentic presence of Brenya in her conversation with survivors of sex trafficking," he said. "She integrates faith and her prodigious interdisciplinary learning in practical ways for service, justice and peace."
Twumasi's efforts include creating a business called Tactical Ops that helps businesses improve diversity and inclusivity. She is also a public speaker, an adjunct faculty member at Northwest Vista College and Texas A&M University-San Antonio, as well as a Psychology lecturer at the University of Texas at San Antonio, where she helped create the Community and Restorative Justice Office.
She teaches her students that they need to be both educationally and socially aware.
Now married with two adult children, Twumasi continues those strong family bonds she knew as a child and said it's important that her students know fulfillment personally and professionally. She wants her students to learn and serve others while they have fun along the way.
"Enjoy the process," she said. "Enjoy the flow."