About the program
The Doctor of Philosophy in Counselor Education and Supervision degree is designed to carry the student through three levels in the educational process: praxis, theory and philosophical foundations. The program is structured to take a total of three years to complete, with two years of full-time study and one year of dissertation development. Students are allowed to move through the program at a slower pace to accommodate work and life obligations.
The purpose of the doctoral concentration in Counselor Education and Supervision is to develop counselor educators who are able to provide pre-service and in-service counselor education, as well as provide effective counseling and therapeutic service/interventions to a variety of client populations in human service agencies in the public and private sectors. The program is open to students from diverse philosophic and religious backgrounds. A mature, experienced student population from many related fields adds to the impact of the training.
The program is accredited by the Council for Accreditation of Counseling and Related Educational Programs (CACREP), a specialized accrediting body recognized by the Council for Higher Education. CACREP requires that all Counselor Education and Supervision students obtain coursework and clinical experiences that are equivalent to a CACREP-approved master's program in addition to the coursework required for the doctoral Counselor Education and Supervision program. After a student is accepted into the Counselor Education and Supervision program, the Program Director evaluates the student's prior educational experiences to determine if leveling courses are required. Students who have a master's degree from a CACREP-approved program or an equivalent program will not be required to take leveling courses.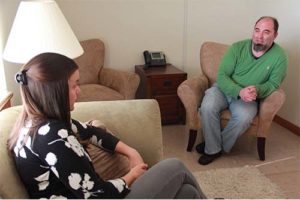 Coursework and clinical experiences are integrated to help students formulate their personal approach to Counselor Education and Supervision. In addition, emphasis is placed on the student's abilities to demonstrate personal growth and development. Courses are offered in the afternoon or evening to accommodate students who work.
Students can pursue the following degree option:
Doctor of Philosophy in Counselor Education and Supervision
Courses and Degree Plan
View the Doctor of Counselor Education and Supervision Degree Plan
Program Objectives
Objectives


Objective 1: Professional Identity

Successive steps towards the development of a well-rounded professional identity. These activities are assessed and measured by their engagement through any and/or all of the following: professional memberships, presentations, publications, leadership roles, service, advocacy, counseling, supervision, teaching and or other professionally related counseling activities.

Objective 2: Supervision

Knowledge of counselor and counselor trainee supervision that involves a working knowledge of legal, ethical and multicultural skills that foster the development of a personal style of supervision. This supervision style will be measured by: the creation of a supervision agreement to include style of supervision, the development of a philosophical supervision paper, the supervision of a minimum of one entry-level masters student and evaluations through video recording, supervisee's experience and faculty review.

Objective 3: Teaching

Knowledge and skills of Counselor Education, instruction, and the understanding of challenges in higher education through the development of the students teaching portfolio, which contains the following: personal philosophy of teaching, philosophy of assessing students, teaching evaluations from both faculty and students, and student-developed instructional materials.

Objective 4: Research and Scholarship

Knowledge of both quantitative and qualitative research design along with the ability of when to and how to implement the appropriate designs, statistical analyses and interpretation through the following: development of research projects, successful submission of IRB proposals, completion of data collection and analyses and a final manuscript written in APA style. All students are encouraged to submit their research results for publication and presentation upon the completion of their research sequence.

Objective 5: Grants and Program Evaluation

Competencies related to grant funding, research, writing and reporting and program evaluation by working with faculty to meet program needs. Students are encouraged to take a course in grant writing, in which they complete a project whereby they identify a gap in community/mental health needs, locate matching funding sources, create and/or submit a letter of interest and/or a full-grant proposal in collaboration with a faculty mentor. Students are also encouraged to gain experience in program evaluation by collaborating with the CES Program Director to create, administer and analyze data to assess the effectiveness of the quality of the counseling programs.

Objective 6: Counseling

Clinical expertise through the advanced mastery of their theoretical approach to counseling and engage with others who have diverse theoretical approaches through the following: completion of Advanced Counseling Theories, Advanced Multicultural Assessment, Advanced Clinical Practicum, and Supervision Internship, as well as student's collaborative exchanges with peers, supervisees and faculty members.

Objective 7: Leadership and Advocacy

A culturally-competent, growth-fostering working knowledge base of leadership and advocacy skills that is applicable to their respective professional counseling affiliations, client base, local community, the broader sociopolitical context which, for international students, are applicable to their home country. Students are required to join the American Counseling Association, the Texas Counseling Association and divisions of interest. They are also required to take initial steps towards providing professional service in such a way that will allow them opportunities to advocate for counseling and the clients they serve.

Internships and Practicums
Continue Reading


Although the Advanced Clinical Practicum requires students to providing counseling services to clients and the Supervision Internship requires students to provide supervision to master's counseling students, students can select to provide counseling, supervision, teaching, leadership and advocacy, and/or supervision services for their internship courses. Supervisors must hold a doctoral degree (or coursework beyond a master's degree) in a mental health field to provide the required on-site supervision for doctoral level students. Each intern also is supervised by a full-time faculty member of the department.

Each site is approved by the program's Counseling Internship Coordinator. The site will provide the intern with supervised individual and group therapy; experience with the etiology, diagnosis, treatment, and prevention of mental and emotional disorders; models and methods for assessing mental status; specific theories of psychotherapy for initiating, maintaining and terminating treatment; and experience with basic classifications, indications, and contraindications for the commonly prescribed psychopharmacological medications.

Each practicum and internship student must obtain professional liability insurance that is designed to provide coverage suits of malpractice error or omissions in the performance of their duties, whether actual or alleged. Students who are performing supervision, teaching, or consultation as part of their internship or practicum work must hold liability that covers these specialized activities.

Students consult with their Academic Advisors and the Counseling Internship Coordinator to determine sites that would provide experiences that fit with their academic, clinical and research interests. Students then contact those sites and obtain agreements to provide services at one or more sites.

The faculty supervisor facilitates discussions in group supervision sessions and monitors each student's progress, assisting whenever possible to maximize the educational experience. This monitoring includes assessing the quality and quantity of the experience and recommending adaptations and adjustments when necessary.

Financial Aid
St. Mary's offers various scholarships, grants and assistantships to graduate students. Military, their dependents and Department of Defense employees may be eligible for a tuition discount. Please contact the Office of Financial Assistance at 210-436-3141 or finaid@stmarytx.edu for additional information or visit www.stmarytx.edu/finaid.
Contact Us
Francis Farrell, Administrative Assistant
210-438-6400
ffarrell@stmarytx.edu
Learn more about the St. Mary's Doctor of Counselor Education and Supervision Program
Loading…