May 31, 2023
The funding will help local high schools access scientific experts and support undergraduate research
The National Institutes of Health have awarded a grant of $2.1 million to enable St. Mary's University to train the next generation of biomedical scientists.
The Undergraduate Research Training Initiative for Student Enhancement (URISE) program at St. Mary's will build the pool of students interested in research by exposing high school students to research in STEM fields. The grant will also provide St. Mary's students with more opportunities to participate in biomedical research with faculty mentors. Additionally, the grant will fund training for a cohort of students intent on pursuing a Ph.D. in biomedical sciences.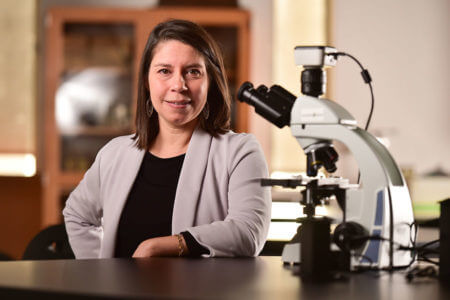 "The first aim is high school outreach to plant the seed that you can be a scientist," said Verónica Contreras-Shannon, Ph.D., Professor of Biological Sciences and the grant's director. "Most high schoolers know what a doctor, nurse or dentist is because they've interacted with them. They don't necessarily think about becoming a scientist because they've never met one."
URISE will offer an ambassador program to high schools in San Antonio so that if a high school teacher needs to know something about a scientific topic, like genetics or microbiology, they can tap into the St. Mary's University faculty or URISE scholars for expertise.
The NIH grant builds on a similar program at the University — called Maximizing Access to Research Careers (MARC) Undergraduate Student Training in Academic Research (U*STAR) — with a 40-year legacy of preparing students from historically underrepresented populations to enter professional schools. Historically underrepresented groups in biomedical research are defined by NIH as individuals with disabilities; those from disadvantaged backgrounds; those who identify as Hispanic, African American, American Indian, Alaska Native, Native Hawaiian or other Pacific Islander; and particularly women from those backgrounds.
Statistics show students who participate in undergraduate research at St. Mary's have improved graduation statistics, Contreras-Shannon said.
"The sooner students start doing research, when they get to our campus, the more likely they are to graduate in four years," she said. "That's because they're developing critical thinking skills, time management skills, confidence and self-efficacy."
She said nearly all students in the MARC U*STAR program since 2000 gained acceptance into graduate school, and 78% have received a Ph.D. or are in a Ph.D. program, which could add greater diversity among the future ranks of professors.
"The sooner students start doing research, when they get to our campus, the more likely they are to graduate in four years."

Verónica Contreras-Shannon, Ph.D.
"If we want to innovate science, we need to have a lot of diversity in ability and thought" to solve the challenges of the future, Contreras-Shannon said.
The URISE Program objectives include:
Building the interest of St. Mary's students in research careers in the biomedical sciences and pursuing a Ph.D. degree in biomedical sciences through early outreach and interactions with local high schools.

Implementing a research track curriculum designed to mentor, train and engage students in biomedical research (including community college transfer students) and increase the number of students interested in research careers.

Recruiting and preparing a diverse pool of URISE scholars who complete their baccalaureate degree; complete biomedical, research-focused higher degree programs (e.g., Ph.D. or M.D./Ph.D.); and pursue biomedical research careers
Students in the URISE program receive $16,000 in tuition assistance, a monthly stipend, research opportunities, information about what it means to go to graduate school, help with building up their curriculum vitae with technical and professional skills, and building their career network.