July 7, 2023
UNAM, the largest law school in Mexico, has agreed to student and faculty exchanges, the chance for St. Mary's Law students to study abroad in Mexico and easier access for UNAM graduates to attend the Master of Laws (LL.M.) program at St. Mary's.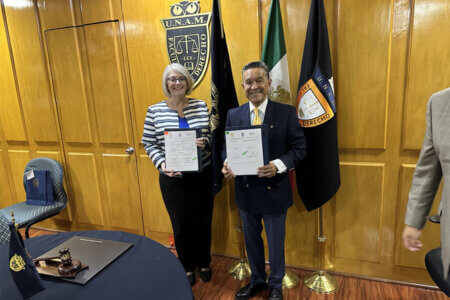 "As the southernmost law school in Texas, it is critical we train our students to understand the laws of our closest neighbor — Mexico — and to understand how to do business across our shared border," said Patricia Roberts, J.D., St. Mary's School of Law Dean and Charles E. Cantú Distinguished Professor of Law. "Our Immigration and Human Rights Clinic also looks south to identify ways to protect the human rights of our neighbors who cross the border. Further collaboration between our two institutions will help build cross-cultural collaboration and understanding, which are essential for today's global economy." 
Cooperation between the two universities has already begun, with the UNAM office in San Antonio hosting a lecture for St. Mary's LL.M. students in Spring 2023. The event included a discussion by former Mexico Attorney General Jorge Madrazo Cuéllar of U.S. and Mexican constitutional law.
Roberts and Jennifer Stevenson, J.D., St. Mary's Law's Assistant Dean for International Programs, traveled to UNAM's campus in Mexico City in March, where Stevenson gave a lecture on U.S. legal writing and analysis. Genevieve Hébert Fajardo, J.D., St. Mary's Clinical Professor of Law, also gave a virtual lecture to UNAM students on U.S. consumer protection law.