September 7, 2023
St. Mary's University School of Law event to unite the legal community of all faiths through processions, music and ritual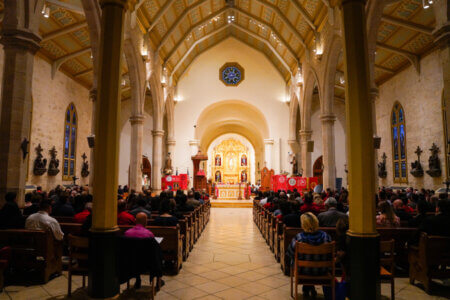 The St. Mary's University School of Law, the Archdiocese of San Antonio and the Catholic Lawyers' Guild will gather the San Antonio legal community to celebrate the 71st annual Red Mass at San Fernando Cathedral on Thursday, Oct. 5.
The annual event upholds the centuries-old tradition that marks the fall start of the judicial year.
"We gather at Red Mass to rededicate ourselves to the rule of law, justice and peace," said Patricia E. Roberts, J.D., Dean of the School of Law and Charles E. Cantú Distinguished Professor of Law. "We pray for wisdom and compassion to guide us in our work, and we stand united in our commitment to uphold these ideals."
At 5:45 p.m., judges and legal organizations will have a procession carrying bright red banners through Main Plaza to the Cathedral at 115 Main Plaza. The Mass will begin at 6 p.m. and is open to the public.
The Most Rev. Gustavo García-Siller, M.Sp.S., Archibishop of San Antonio, will be the principal celebrant and homilist. Javier F. Oliva (M.S. '87, J.D. '90) will provide welcome remarks.
"We gather at Red Mass to rededicate ourselves to the rule of law, justice and peace."

Patricia E. Roberts, J.D.
"When I think of the significance of the Red Mass to our community, I am reminded of Psalm 85, which states, 'Kindness and truth shall meet; justice and peace shall kiss,'" said the Rev. John Thompson, S.M., Ed.D., St. Mary's Vice President for Mission. "When we gather in faith, we look to God who is just and merciful. For people involved in the exercise of law in our city, this should be the model for all deliberations and interactions — kindness, truth, justice and peace. When we celebrate the Eucharist, that is, in fact, what comes together. When we leave Red Mass, we should be more kind, more truthful, more just and more at peace. May God's word ring true in our hearing this day."
The Red Mass tradition dates to 1245 in Europe when the bench and bar attended the Mass together at the beginning of each judicial session. The name references both the crimson robes worn by judges and the red vestments worn by priests in honor of the Holy Spirit. Legal communities across the country celebrate Red Mass to request God's blessings and guidance on the administration of justice.
The St. Mary's Law and the Catholic Lawyers' Guild of San Antonio revived the tradition 71 years ago and continue to organize the annual event with the Archdiocese and representatives from San Antonio legal organizations, the judiciary and the State Legislature.
Of Red Mass, Oliva said, "We pray for the gifts of the Holy Spirit to ignite our minds and hearts to go forth and serve all of God's people."
"All assembled renew their commitment to seek the truth and promote justice for the common good," Oliva said.