January 7, 2022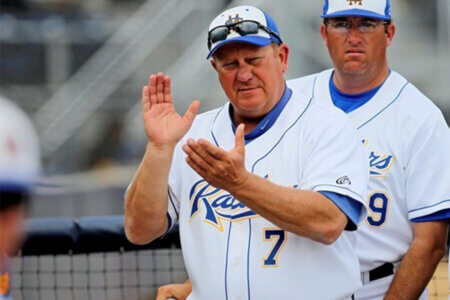 After spending 40 years on the staff at St. Mary's University as both a baseball coach and athletics director, Charlie Migl is hanging up his jersey today for the final time.
"I have loved my time here," Migl said. "I've gotten to meet so many people who have helped me and who I have tried to help through mutual work relationships. I've really been blessed to be at St. Mary's so long — I went to school here, played here and then coached here."
Migl's lasting impact goes far beyond his victories on the diamond.
"Throughout Coach Migl's career, Charlie has not only been a hugely successful baseball coach, but also an important mentor to scores of young men, his players — whose lives have been transformed because of Charlie's genuine care and concern for their development into leaders," said St. Mary's University President Thomas M. Mengler, J.D.
St. Mary's University Executive Director of Athletics Robert Coleman said Migl's significant contributions would be remembered.
"Charlie is a St. Mary's legend for his success and commitment to excellence," Coleman said. "He set a standard for excellence for not only our Baseball program, but for the entire athletic program. There is little doubt he has made an impact on so many lives. He will always be remembered for his tremendous efforts."
In his 35 years as the head Baseball coach, Migl is the active leader in NCAA Division II with 1,246 victories — a total that also ranks fourth all-time in NCAA history. Migl has had 33 winning seasons in those 35 years, with the club becoming NCAA Division II national champions in 2001. Migl's teams have won 15 conference titles, appeared in seven NCAA Regionals and three NAIA World Series.
Migl's 1,246 wins also rank 30th all-time, regardless of division, and are fifth among all active NCAA coaches. He was inducted into the Heartland Conference Hall of Fame in the league's final year of existence and has earned 14 conference coach of the year awards — seven in the Heartland Conference, five in the Heart of Texas Conference and two in the Big State Conference. He also earned National Coach of the Year honors in both 2001 and 2012.
Migl was a four-year letter-winner at St. Mary's in Baseball while earning his Bachelor of Arts in Physical Education in 1978. After two years as a teacher at Harlandale High School, Migl was hired in 1982 to be an assistant Baseball coach and took over the reins five seasons later, spending 35 seasons at the helm of the Baseball program. In addition, Migl also spent time working with the Men's and Women's Tennis and Men's Soccer programs while he was an assistant Baseball coach.
Migl's tenure as the director of athletics from 2001 to 2013 was one of the most successful eras in StMU history, with the Rattlers winning four of their six national championships and all four of their NCAA national championships (including the academic title for Men's Golf) during that span. The Baseball team won its first-ever national title in 2001 with Migl as head coach and athletics director, and the next year the Softball team followed with its second national championship and first in NCAA play. In 2006, Jamie Amoretti won the Rattlers' first-ever individual national championship at the NCAA Division II Men's Golf Championship. The 2008-2009 Men's Golf team was named academic national champions by the Golf Coaches Association of America.
"Everybody in life ought to have a passion and, clearly, Charlie's passion has been St. Mary's Baseball," said Dave Dickson (B.B.A. '68), for whom the St. Mary's baseball stadium is named. "He is a man of extraordinary integrity, who was committed to doing the right things for the student-athletes."
Migl retires among the winningest coaches in college baseball history and leaves a legacy not soon to be forgotten.