June 8, 2022
The Alexandria "Lexi" A. Rubio Memorial Law Scholarship Fund will support future law students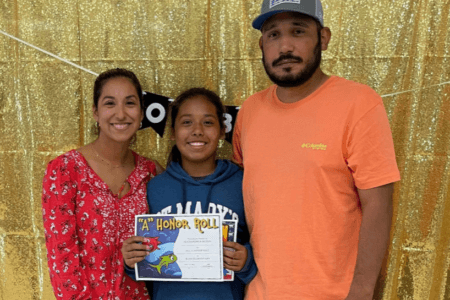 The St. Mary's University community is heartbroken over the tragic massacre in Uvalde at Robb Elementary School. One of the students killed was 10-year-old Alexandria "Lexi" A. Rubio, daughter of St. Mary's University Public History student Kimberly Mata-Rubio.
"We do not want you to think of Lexi as just a number," Kimberly Mata-Rubio told the committee. "She was intelligent, compassionate and athletic. She was quiet. Shy, unless she had a point to make. When she knew she was right, as she so often was, she stood her ground. She was firm, direct, voice unwavering. So, today, we stand for Lexi, and, as her voice, we demand action. We seek a ban on assault rifles and high-capacity magazines."
Lexi Rubio previously shared with her parents that she hoped to attend the St. Mary's School of Law and dreamed of becoming a lawyer.
"While we cannot lessen the pain Lexi's family and friends feel, we can make sure that she is remembered in a way that honors her life and her St. Mary's dream long into the future," said Patricia Roberts, J.D., School of Law Dean and Charles Cantú Distinguished Professor of Law. "At the urging of alumni, we created the Alexandria "Lexi" A. Rubio Memorial Law Scholarship Fund."
This fund will provide scholarship aid to future law students who exemplify the spirit of Lexi Rubio's intellectual curiosity, resilience and deep commitment to family values. Once fully funded, gifts to this endowed fund will support select St. Mary's students pursuing a legal education based on their financial need.
"The memorial fund went public last Friday with my initial $5,000 pledge," Roberts said. "Since then, it has more than tripled."
These gifts honor Lexi Rubio's memory through the financial support of future law students at the school she aspired to attend — the St. Mary's University School of Law. Donations to this scholarship fund can help make a legal education possible for students who share Lexi Rubio's hopes and dreams.
"God bless you and your families," Roberts said. "In your prayers, please keep the loved ones left suffering after the Uvalde shooting, including Lexi's parents — Kimberly Mata-Rubio and Felix Rubio — and her siblings."