Charles Anderson receives an honorary Doctor of Commerce
When St. Mary's University President Thomas Mengler, J.D., handed Charles Anderson his degree at the University's Commencement Ceremony this month, everyone in the filled-to-capacity Alumni Athletics & Convocation Center stood, applauding the historic moment and Anderson's long-sought accomplishment.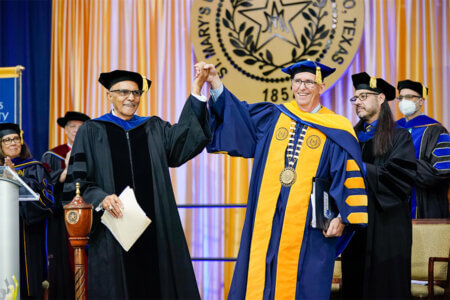 For the 88-year-old Anderson, the Doctor of Commerce, honoris causa, was more than just another milestone in a life full of accomplishments. Instead, as Mengler told the audience, this moment was something Anderson had been told would happen "later."
Anderson was the first African American accepted to study at St. Mary's but was not initially allowed to enroll because of the racial climate at the time.
"I am sure that no one, including you, thought 'later' meant 70 years later," said Mengler, acknowledging Anderson's prior treatment and rectifying the University's missed opportunity to include Anderson in the ranks of its honored graduates sooner.
Despite the wait, Anderson said his life has been blessed by God and his family, calling the moment he finally received a degree from St. Mary's immeasurable and fulfilling.
"This is more than just an honor for me, but an honor for my family," Anderson said.
Anderson's path to St. Mary's started in 1951 as a 17-year-old from Beaumont. After attending Our Mother of Mercy Catholic Church and Blessed Sacrament High School, Anderson received a scholarship to Xavier University of Louisiana in New Orleans. Still, he decided to attend St. Mary's University.
However, upon his arrival and attempt to enroll, Brother Thomas J. Treadaway, S.M., the University's Registrar, told Anderson, "There has been a change of plans," and encouraged him to hold on to his acceptance letter because Treadaway would be reaching out again soon.
"To get an education at St. Mary's means focusing on the spiritual values that are so important to our system. That's what you get in these classrooms."

Charles Anderson
Three years before the landmark United States Supreme Court decision Brown v. Board of Education that desegregated schools, Texas' political climate was dictated by Jim Crow laws. Concerns about the University's preparedness for accepting African American students at the time were also a factor in the decision.
Anderson did indeed receive a second acceptance letter from Treadaway two months later, in November 1951. However, Anderson had already enrolled at St. Philip's College, from which he would receive an associate degree in 1953.
"Brother Treadaway was a man of his word," said Anderson, who still has his original acceptance letter.
Anderson continued to seek higher education: attending Morehouse College in Atlanta, Trinity University and the University of Hawaii. He received a second associate degree from San Antonio College and a bachelor's degree from what was then called Southwest Texas State University. He completed his master's degree and teaching certificate at Webster College in 1978.
Anderson also enlisted in the Air Force in 1954, eventually retiring as a master sergeant. And between 1980 and 1997, he served in a civil service role.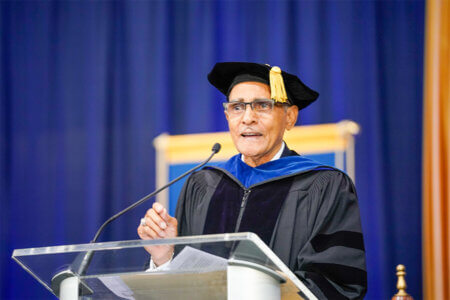 With a love for continuous learning, Anderson said he instilled the same principles in his four children, who are all college-educated. A strong education, along with being well-informed and having a strong spiritual foundation, he said, makes a person a better citizen.
"To get an education at St. Mary's means focusing on the spiritual values that are so important to our system. That's what you get in these classrooms," Anderson said to the Class of 2022 listening to him speak at Commencement.
Francesca Anderson, one of Charles Anderson's daughters, said when she and her siblings were growing up, Anderson would continue to tell them about the importance of getting an education, but also being humble and serving others and God.
From going to doctor's appointments to just meeting people for the first time, Francesca Anderson said her father is always willing to listen to others and be heard in return.
"He's always giving words of wisdom," she said. "That's what God calls us to do."
Mengler honored that wisdom with long-overdue recognition at the Commencement Ceremony.
"On behalf of Brother Treadaway and St. Mary's University, I am proud to call you a graduate of St. Mary's University — a distinguished graduate who now holds as I present it to you — the degree of Doctor of Commerce, honoris causa, bestowed on you this 14th day of May, 2022," proclaimed Mengler before the enthusiastic crowd.