December 20, 2019
Greehey's gifts totaling more than $21 million to the Defining Moment Comprehensive Campaign help St. Mary's surpass campaign goal with $138 million raised and counting
St. Mary's University has received a $1 million gift from alumnus Bill Greehey (B.B.A. '60), a long-time philanthropist and the largest donor to St. Mary's University in the institution's history.
Greehey has long been a significant benefactor of St. Mary's. In 2005, his $25 million gift resulted in the naming of the Greehey School of Business and funded academic and scholarship programs to attract world-class faculty and students. He donated $4 million from 2014 to 2017 to benefit the Greehey Scholars Program, a unique undergraduate program that focuses on servant leadership, and the Greehey MBA program. He also gave $1 million in 2012 to help revamp the University's MBA offerings.
"I'm proud of St. Mary's and the School of Business," Greehey told Tanuja Singh, D.B.A., Dean of the Greehey School of Business. "You and your staff have done a great job and today, because of you, the School of Business is nationally recognized. I'm also especially proud of our Greehey Scholars and how well they have done after graduating."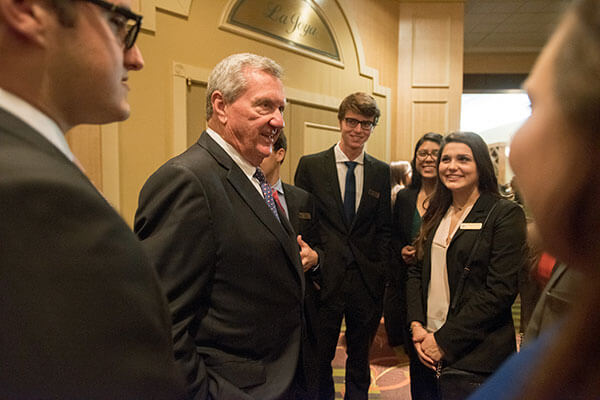 Greehey is honorary co-chair of the University's ongoing Defining Moment Comprehensive Campaign, officially announced in November 2017. Last month, the University celebrated having already raised $138 million two years ahead of schedule and increasing its campaign goal to $150 million. St. Mary's has reached that goal with significant contributions from Greehey now totaling more than $21 million to the campaign.
"Bill Greehey is the most generous donor in the University's history and we cannot thank him enough," President Thomas Mengler, J.D., said. "Bill has more than led by example during his studies at St. Mary's, his incredible career and through his ongoing commitment to giving back. His latest gift continues to make defining moments — like those Bill experienced at St. Mary's — a reality for students now following in his footsteps."
Singh said St. Mary's University and the Greehey School of Business "have benefited enormously from the continued generosity of Bill Greehey."
"You can see it in the success of our students who are in great demand by employers," she said. "You can see it in the quality of faculty we have been able to attract to St. Mary's. We are continuing his work by developing ethical leaders who are leading purposeful lives and giving back to the communities where they work and live. We are eternally grateful to Bill Greehey for the investment he has made in the School."
The Greehey MBA is for values-driven leaders who want to transform their enterprises, institutions and communities by positively transforming themselves. The 16-month, cohort-based program offers students one-on-one faculty interaction and the opportunity for peer-to-peer mentoring.
Highlighting the curriculum is an International Field Study, which takes students to global destinations to experience diverse business cultures and learn from local experts. Past cohorts have visited Brazil, China, Germany, the Netherlands, Morocco and South Korea.
The MBA for Professionals is designed for those seeking to complete the program at their own pace. The program develops competent individuals who desire to transform their careers and career trajectories and seek leadership roles. Concentrations are available in Compliance, Data Analytics, Health Management, International Business and General Business.
Greehey's business success has led to his ranking as 12th among U.S. CEOs and 31st among all CEOs worldwide by the Harvard Business Review in 2013. He has turned around not merely company fortunes, but also company cultures.
Under his leadership, Valero, the world-renowned energy giant, grew from a small, regional natural gas pipeline company to the largest independent refinery in North America with about 22,000 employees, $33 billion in assets and revenues of more than $80 billion. The company ranked among the top 15 on the Fortune 500 list when he retired as Chairman. Under his leadership, the company became widely known for its employee-centered culture and for its commitment to serving communities where the company operates through volunteer and financial support.
Under Greehey's leadership, Valero consistently ranked among the "100 Best Companies to Work For" by Fortune, rising to No. 3 in 2006. Valero was listed on Forbes' "Best Managed Companies" list in 2005 and Fortune's list of "Most Admired Companies." He led this transformation by developing a high level of community engagement where employees were not merely encouraged, but also rewarded for their volunteerism and commitment to giving back their time, talent and treasure.
After retiring from Valero as CEO in 2006 and as Chairman in 2007, he stayed on as Chairman of the Board of NuStar Energy, a spinoff of Valero Energy. Not surprisingly, he transferred maintaining the culture of compassion to NuStar where, in 2016 alone, its 1,600 employees contributed 95,000 volunteer hours to charitable and civic causes in the communities where the company has operations.
All NuStar U.S.-based employees contribute to the United Way campaign. The average employee per capita contribution is among the highest in corporate America. The company's 2017 campaign totaled more than $2.9 million. In 2017, NuStar ranked 37th in the "100 Best Companies to Work For" by Fortune and has earned placement on the list every year since 2008.
A strong believer in investing in communities where one resides, Greehey has changed many lives through his deep and passionate commitment to making the world a better place and by setting a personal example of giving where it matters most. He has been honored by numerous local, regional and national organizations for his business acumen as well as his philanthropic giving.
In 2002, he was inducted into the Texas Business Hall of Fame. In 2000, he received the Horatio Alger Award, which recognizes individuals who have climbed from humble beginnings to personal and professional success. The American Academy of Achievement presented him with the Golden Plate Award and inducted him into the Academy's Museum of the American Dream. He also received the international Citizen of the Year award by the World Affairs Council of San Antonio in 1999, the Outstanding Volunteer Fundraiser of the Year Award by the Association of Fundraising Professionals in 2009, and the Entrepreneur of the Year Award in the Socially Responsible Award Category in 1993.
In addition to the gifts mentioned above, he and Valero employees also established the $1.5 million Greehey Endowed Chair of Business Ethics and Corporate Social Responsibility at St. Mary's.
Greehey also gives much of his time and service to St. Mary's, having served on its Board of Trustees and led fundraising initiatives to help transform the University. These efforts included a capital campaign to build the Alumni Athletics & Convocation Center in 2000, which included a $1 million personal gift from Greehey. He also led a campaign to raise $4 million to beautify and restore the historic campus.
In 2008, he led the effort to secure $6 million in funding through the Bexar County venue tax vote to help build The Park at St. Mary's outdoor sports complex. Based on his decades-long support of the University and his professional and civic achievements over the years, Greehey has received the University's Distinguished Alumnus Award and an honorary doctorate (the Doctor of Laws Honoris Causa).
Growing up in Fort Dodge, Iowa, Greehey dreamed of a college education, but he was raised in a poor, working-class family that could not afford to send him to college. In fact, no one from his family or neighborhood had ever gone to college. So after he graduated from high school, he joined the U.S. Air Force so he could go to college on the GI Bill. After four years of military service, he put himself through St. Mary's University and achieved numerous academic honors while working nights and weekends parking cars at the Nix Hospital to support his young family.
When asked what motivates him to give so much to so many causes, he simply responds with his signature line, "You are not a success until you share your success with others".