Steven Michael Peña Sr. (J.D. '94), a partner at Davidson Troilo Ream & Garza, PC in San Antonio, feels law students who underperform are easily overlooked.
"I know because that's where I was," Peña said. "I was not an all-star when I got into law school."
"We're a small school, but that doesn't mean we have to have a small impact. There are tremendous things happening here."

Steven Michael Peña Sr.
Students may be up against a metric they can't reach alone.
"Many of them are first-generation law students, like I was, and are the pioneers, the first ones to try," he said. "There's something special about these students who can plot a course in life that's different from what their family could do."
Transformation through challenge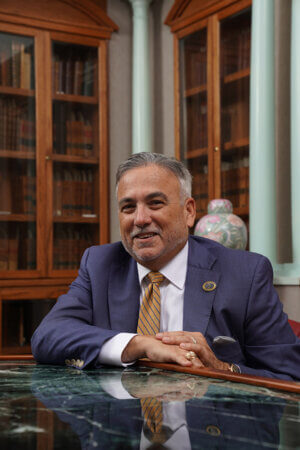 Law school was challenging, but what Peña remembers most is how much it transformed him and his peers. It taught him the critical thinking skills required to be a lawyer.
Professors of Law L. Wayne Scott, J.D.; John W. Teeter Jr., J.D.; past professor José Roberto Juárez, J.D.; and Professor Emeritus of Law Aloysius A. Leopold (B.A. '70, J.D. '62) taught Peña how to be a lawyer. Teeter, in particular, challenged him to expand his thinking.
"Teeter would say, 'Well, here's the rule, here's the law. But why did they do it this way? What was the reason?'" Peña said.
When Peña did well on his final exams after his first semester in law school, he knew he could graduate.
"I never looked back," he said. "That's the tough part — the worry that you're not going to make it. But when you do, you know you're going to get through."
The students at St. Mary's Law will make great lawyers, but some may require more nurturing at the beginning of their legal education, he said.
That thinking led to a $1 million donation supporting the first year of the Law Success Program. Now called the Steven M. Peña Sr. and Claudia Fournier-Peña First-Year Program, Peña hopes the gift will raise the profile of the School of Law and strengthen first-year J.D. students' skills in the foundational areas of case analysis, legal research, legal writing and professionalism.
For Peña, the biggest reward since donating was getting more involved with his alma mater. He has served on the School of Law's Board of Visitors and is a University Trustee.
"We're a small school, but that doesn't mean we have to have a small impact," he said. "There are tremendous things happening here."