For Erich Ferrari (J.D. '06), founder and principal attorney of Ferrari & Associates, the St. Mary's University School of Law was the starting point for developing his practice as a sanctions lawyer.
It was at St. Mary's that Ferrari discovered just how many areas of national security law he could explore.
"It's hard to make ends meet and also study, pass the bar and think about getting a job. So knowing that I can provide a little bit of relief to folks who were in the same position I was in is really meaningful to me."

Erich Ferrari
"I learned practical skills and developed a kind of business acumen for how to translate national security law into a practice," Ferrari said. "I don't think I would have gotten that at another law school."
Ferrari was able to combine what he had learned about national security law from Professor of Law Jeffrey Addicott, J.D., S.J.D., with other professors' lessons as well. Professor of Law Willy Rice, J.D., Ph.D., inspired Ferrari to think creatively about law as a business. Professor of Law David A. Schlueter, J.D., provided him with a strong understanding of constitutional law.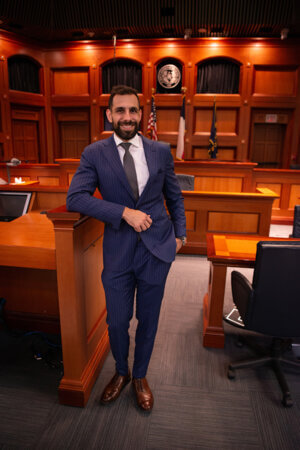 His interest in sanctions law was fully piqued after writing and successfully publishing a note in The Scholar: St. Mary's Law Review on Race and Social Justice. The note addressed an issue that, at the time, was not being talked about: the U.S. government's use of economic sanctions on Islamic charities.
"All of those experiences converged to give me the idea to go into the sanctions space," Ferrari said.
Even though his practice took him to Washington, D.C., Ferrari still finds the time to put on occasional seminars at St. Mary's Law, even bringing in experts on U.S. sanctions. He's also offered internships to students to introduce them to the practice of U.S. sanctions.
Among his many gifts during the campaign, Ferrari donated $100,000 to the St. Mary's Law National Trial Team, which recently won a national championship. He has focused on providing stipends for students researching national security law issues or participating on the trial team, Ferrari said.
"It's hard to make ends meet and also study, pass the bar and think about getting a job," Ferrari said. "So knowing that I can provide a little bit of relief to folks who were in the same position I was in is really meaningful to me."