John R. Courtney Sr. (B.A. '61, J.D. '67) encourages any student looking for a great leadership and educational opportunity to join the Army ROTC at St. Mary's University.
While in the ROTC program, Courtney had several opportunities to take a leadership role, experiences that served him later in life.
"That experience allowed me to have confidence in practicing law and in starting a new company," said Courtney, who lives in Springfield, Missouri. "I don't know that I would have had that level of confidence without it."
Finding a quality education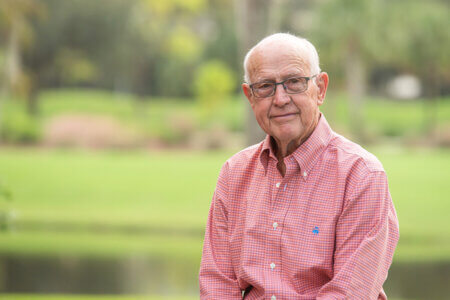 Further enhancing his journey was the quality of education he received while at St. Mary's, starting with the professors like Brother John Donohoo, S.M., at the undergraduate level.
While in law school, there were several professors he considered excellent, such as previous deans Ernest A. Raba (B.A. '34, LL.B. '37) and James Castleberry (J.D. '52).
"The most surprising thing for me was how much law school changed me as a student," Courtney said. "I actually enjoyed the number of hours that I had to put in to get good grades and do well in law school because I loved the atmosphere."
The education he received at St. Mary's allowed him to found two companies in 1991: the Springfield Trust & Investment Company and the Courtney Law Firm. He served as chairman and CEO of Springfield Trust until it was acquired in 2009 and sold Courtney Law in 2014.
Being charitable for a cause
As an estate planning attorney, Courtney used to spend time with clients talking about the benefits of being charitable. Practicing what he preaches, Courtney has donated to causes he finds important.
St. Mary's was his No. 1 objective.
"I hope these gifts allow the University to continue to provide the benefits of education that it has done since 1852."

John R. Courtney Sr.
"I owe my financial success to the education I received at St. Mary's," he said. "There's no doubt in my mind."
Courtney has donated more than $1 million to St. Mary's in support of the School of Science, Engineering and Technology's planned Innovation Center and created the Courtney Scholarship Honoring Ernest A. Raba to provide more financial aid for law students.
"I hope these gifts allow the University to continue to provide the benefits of education that it has done since 1852," he said. "The students here are getting a good Catholic education in a wholesome atmosphere."