August 15, 2022
The biannual Continuing the Heritage event will assist local nonprofits on Aug. 20
St. Mary's University students, faculty, staff and alumni will volunteer across San Antonio on Saturday, Aug. 20, for Continuing the Heritage — the biannual event during which the St. Mary's community serves at partnering nonprofits throughout San Antonio.
This August will mark the 25-year anniversary of the University's day of service. Continuing the Heritage is held at the beginning of each semester and brings together volunteers for projects such as planting edible gardens, packaging diapers for those in need, organizing school classrooms and more. The event on Aug. 20 is expected to draw several hundred volunteers.
Volunteers will meet at the Flex Field at 7:30 a.m. on Saturday, Aug. 20, for an opening ceremony, which includes breakfast and prayer. From 9 a.m. until noon, volunteers will serve at sites including: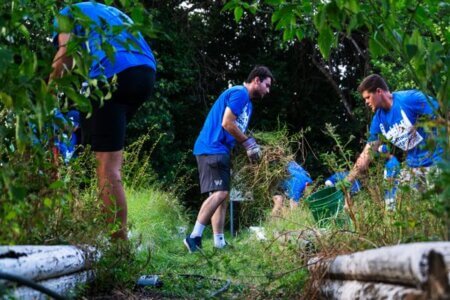 Family Service Association Neighborhood Place at 3014 Rivas St. Volunteers will assist with indoor beautification projects around Family Service's West Side community center, the Neighborhood Place, so the building continues to be welcoming for clients.

Locke Hill Elementary at 5050 De Zavala Road. Volunteers will help teachers, librarians, administration and the front office prepare for the beginning of the school year by setting up bulletin boards and organizing classrooms.

San Antonio Food Bank's Mission San Juan Community Farm at 9101 Graf Road. Volunteers will aid in planting, transplanting, harvesting, weeding and mulching.

Texas Diaper Bank at 1803 Grandstand Drive. Volunteers will help repackage diapers or prepare donations for distribution to clients who receive assistance from this office and 60-plus partner agencies.
Since 1997, about 12,397 volunteers have offered more than 51,191 hours to organizations that provide much-needed services throughout the area.