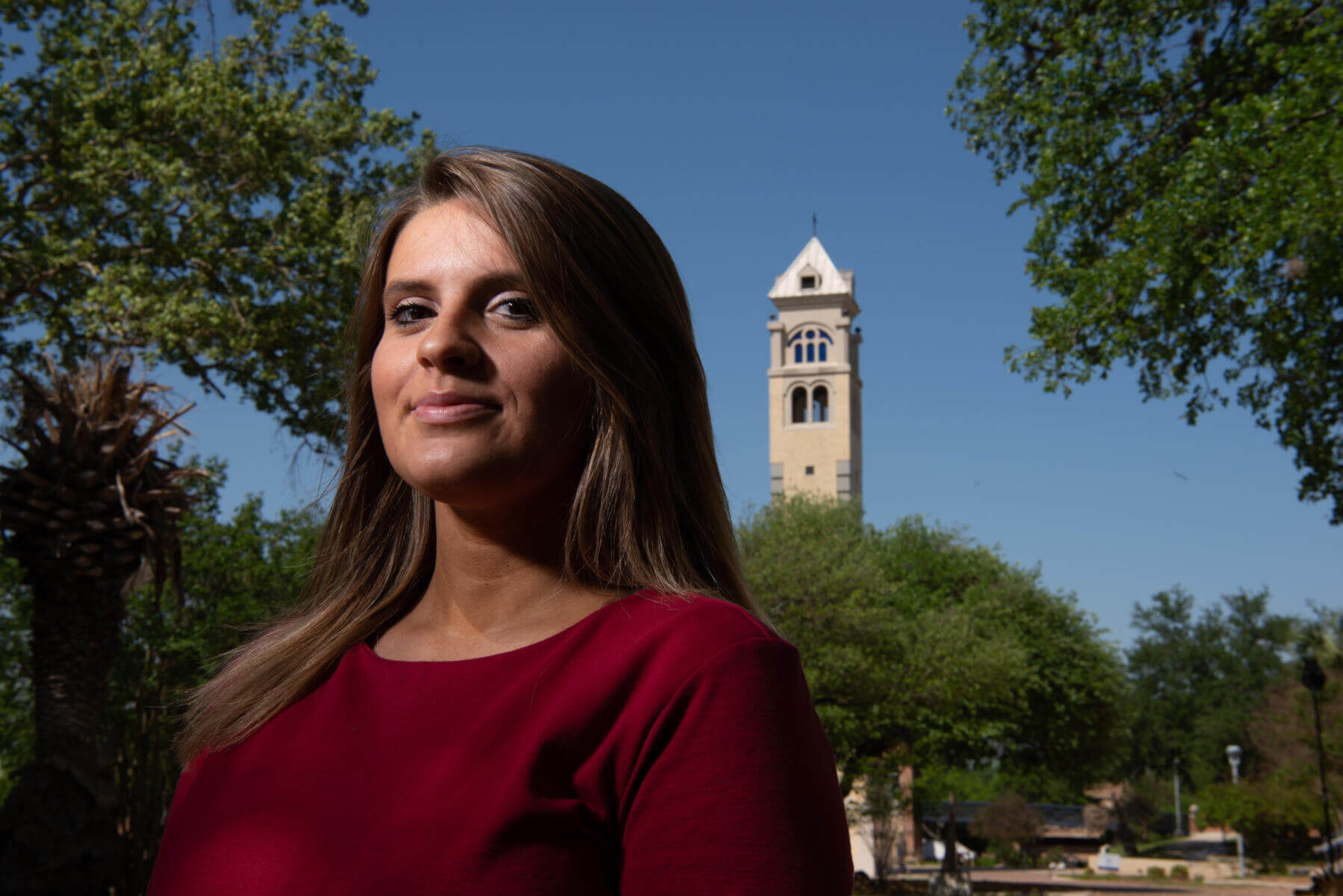 In March 2020, Senate Bill 146 was signed into law in Indiana. The legislation expanded the rights of sexual violence survivors to receive trauma-informed care.
Samantha McCoy (J.D. Class of '21) would know better than most how much effort went into getting this bill passed. She lobbied for it.
McCoy, a lobbying coach for Rise Justice Labs, spent hours cold-calling senators and House representatives, trying to arrange meetings to talk about the gaps in the justice system for sexual violence survivors. She even provided testimony before the House.
"I saw injustices and others suffered from those gaps in our laws and it caused me to act for change," McCoy said. "I wasn't going to let that be the status quo."
She's now actively lobbying in Texas for the expansion of rights to sexual violence survivors, and has found a House sponsor, Rep. Ann Johnson of District 134.
"Samantha is a steadfast, tireless advocate for equity and justice, in the finest traditions of our Marianist and Catholic heritage," said Gregory Zlotnick, J.D., Director of Pro Bono Programs.
McCoy transferred from DePaul University College of Law in Illinois to the St. Mary's University School of Law for her second year of law school.
"St. Mary's was a great school and I just wanted to go somewhere where I felt more comfortable and more of a family atmosphere," McCoy said.
Upon her arrival, she was surprised to learn that St. Mary's Law didn't have a Family Law Association.
Within the span of two weeks, she searched for founding members and wrote the association's bylaws. It quickly grew from three members to 55.
"The Family Law Association really provided me the opportunity to give back and help people, and gave me the platform to bring together other students who care about the community," McCoy said. "This organization continually reminds me of my purpose and why I'm doing this."
In her time at St. Mary's, McCoy has been involved The Scholar: St. Mary's Journal on Race and Social Justice, Phi Delta Phi Legal Honor Society and the Board of Advocates. McCoy was also a mentor for two first-year J.D. students, and set up weekly phone calls and Zoom sessions to ensure they were supported on their law school journey.
On top of all her activities, McCoy is expected to graduate at the top of her class.
"One might think that to perform at this level academically, Samantha has holed herself up in the library, but to the contrary, she is actively engaged in community service, totaling over 250 hours of pro bono services," said Robin Thorner, J.D., Assistant Dean of Career Services.
She enjoyed all her professors during her time at St. Mary's, particularly Assistant Professor of Law Donna Coltharp (J.D. '97) and Professor of Law Bob Summers, J.D.
"Professor Coltharp is very passionate about what she does and really inspired me into looking at death penalty work, and I think she's a wonderful asset," McCoy said. "Professor Summers is the kindest person you could ever meet and a wealth of knowledge about international law."
As a natural introvert, McCoy remembers feeling timid when she first started law school. But now she feels she has found her confidence.
"I've loved my time at St. Mary's," McCoy said. "It has offered me so many opportunities to better myself in so many ways I never thought possible."