May 3, 2021
Tickets will be required for all guests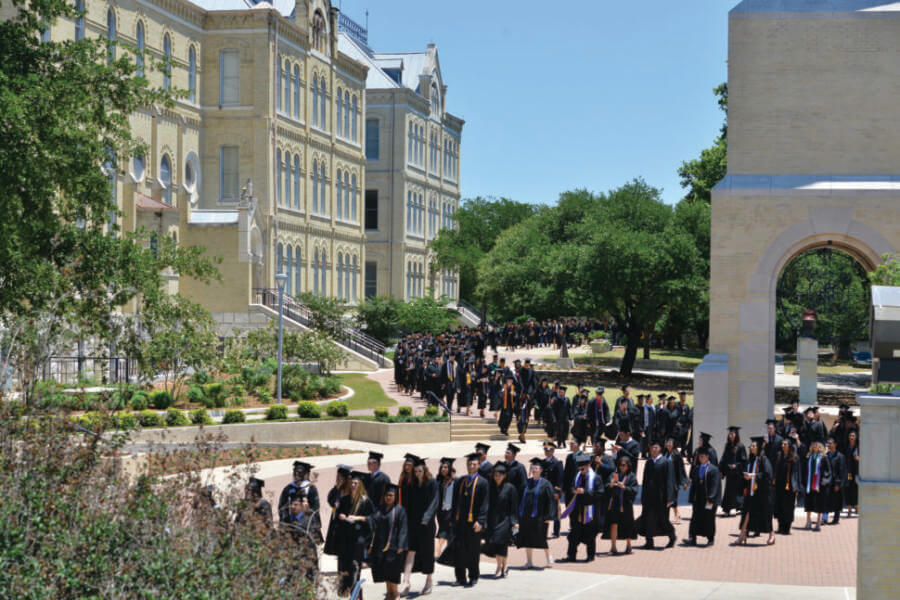 St. Mary's University will honor the accomplishments of its 714 new graduates with a series of smaller, in-person Commencement ceremonies this month.
Each ceremony will be held in the Alumni Athletics & Convocation Center's Bill Greehey Arena. Due to limited seating in the Bill Greehey Arena, tickets will be required for all guests entering the arena. All guests must adhere to the face mask policy when on campus.
During the Greehey School of Business ceremony, the University will bestow the degree of Doctor of Commerce, honoris causa, on Robert Kiolbassa (CL '58), the second-generation owner of Kiolbassa Smoked Meats. The honorary degree recognizes Kiolbassa's outstanding leadership, service and commitment to St. Mary's University, San Antonio and its Catholic community.
Commencement dates and times:
On Saturday, May 15, the University ceremonies will celebrate the achievements of 467 new graduates, including 388 receiving bachelor's degrees and 79 receiving master's degrees.
9 a.m., Greehey School of Business
Noon, School of Science, Engineering and Technology
4 p.m., College of Arts, Humanities and Social Sciences
On Saturday, May 22, St. Mary's Law will celebrate the accomplishments of 247 new School of Law graduates, including 28 receiving their Master of Jurisprudence (M.Jur.), 206 receiving their Doctor of Jurisprudence (J.D.) and 13 students receiving their Master of Laws (LL.M.).
9 a.m., J.D. Candidates, Section A
11:30 a.m., J.D. Candidates, Section B
2 p.m., J.D. Candidates, Section C
4:30 p.m., J.D. Candidates, Sections D and E, all LL.M. and M.Jur. Candidates