September 24, 2021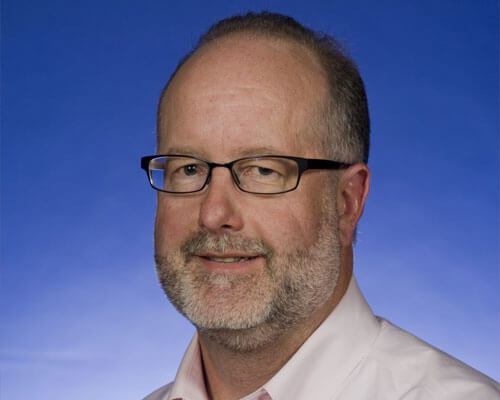 Steve Nivin, Ph.D., Chair of the Department of Economics and Director of the SABÉR Research Institute at St. Mary's University, is being recognized by the nonprofit San Antonio Sports with the Salute Award on Saturday. Nivin's economic research was instrumental in earning the city the honor of hosting the NCAA Women's Basketball Tournament in March. Thanks to Nivin's work, St. Mary's University was selected as one of the host sites for tournament games, which were held in Greehey Arena.
"I'm very honored," Nivin said. "I really enjoy working with San Antonio Sports and being able to take my work in economics and apply it to sports is a keen interest of mine."
Nivin's passion for his work comes from his sports background. He grew up participating in sports since the time that he could walk, playing baseball, basketball, football and running track. Nivin played football through high school and DIII football at Austin College in Sherman.
After graduating with his undergraduate degree, Nivin received his master's and Ph.D. from the University of Texas at Dallas in Political Economy. From there, he served as the chief economist for the City of San Antonio for more than six years. While there, he led the charge on creating and executing new development strategies for the city.
In 2008, Nivin joined the St. Mary's faculty. During his time on campus, he has conducted numerous studies on the economic impact of cultural and sporting events, as well as multiple community initiatives.
Most recently, he handled the analysis and impact study that led the NCAA to grant San Antonio the honor of hosting the NCAA Women's Basketball Tournament. Nivin not only provided economic impact analysis that led to millions of dollars in profit for San Antonio, but he also went to extraordinary lengths to make sure that the city did not miss this historic opportunity.
Nivin had to venture out during the massive snowstorm that hit the state in February in search of a stable internet connection to submit the bid for approval. Despite the ice and snow that closed much of the state creating hazardous travel conditions, he found a way to meet his contact and hand off the proposal in person.
The resulting payoff included both a massive economic benefit to the city of San Antonio during the COVID-19 pandemic and the honor of allowing St. Mary's to be a part of the national tournament. For his efforts, San Antonio Sports will recognize Nivin with the Salute Award.
"To be able to work with an organization like SA Sports is fantastic," Nivin said. "They do so much for the community, especially through their children's programs. They are a great group of people and to work with them is honor enough. Being recognized with this award is very special."
The gala will be held virtually and can be viewed on WOAI News 4 starting at 9 p.m. on Saturday.