by Jennifer R. Lloyd (M.B.A. '16)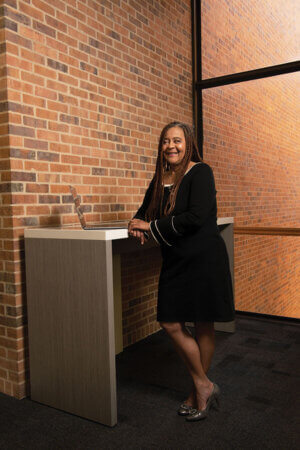 Laura Thompson was in the midst of organizing a natural hair event at San Antonio's Henry B. González Convention Center when COVID-19 spread across the region in Spring 2020.
"It was a major event that went belly up," said Thompson, who has a background in media and public relations.
Across town, Tyler Applegate was working in the foodservice industry soon shuttered by the pandemic, leaving him looking for remote work due to underlying health issues.
Applegate quickly realized he would need specialized computer skills to have good work-from-home options. "If this is the kind of work I need to be doing, then I have to have some of these skills," he said.
Though neither Thompson nor Applegate had much previous interaction with St. Mary's University, they soon began online workforce development workshops the University was presenting in partnership with the City of San Antonio and Project QUEST.
Project QUEST is a workforce intermediary providing wraparound support services to help residents gain quality employment for in-demand careers. The efforts are beginning to help support the 140,000 Bexar County residents who lost jobs due to the pandemic.
Two St. Mary's programs, Rattler Focus and Rattler Readiness, have offered virtual workshops to dozens of residents needing a jump-start to re-enter the working world. The workshops are at no cost to the participants, who apply to participate through Project QUEST.
"It's a great tool for anyone starting out or making a transition."

Laura Thompson
"The partnership with St. Mary's University's Rattler Readiness and Rattler Focus programs is a result of two institutions listening to the needs in the community and responding by offering them alternatives to jump-start their careers," said David Zammiello, president and CEO of Project QUEST.
"By re-tooling our work and joining with Project QUEST, we have a start on turning this human emergency into hope and new employment for our community," said Langston and Israel in a joint statement. "We consider community engagement core to our mission at St. Mary's."
Rattler Focus workshops aid participants in deciding what industry or field in which they'd like to seek employment, and exploring strengths and interests to translate them into a future career. Thompson, a Rattler Focus participant, said she was wowed by learning different tools.
"I didn't know this information was available or was out there or where to get it," she said. "I was wishing I had some of this training when I was in business or earlier. It's a great tool for anyone starting out or making a transition."
Participants, such as Applegate, discussed job-hunting skills during Rattler Readiness workshops, which help participants who have experience in or knowledge of a specific field of employment to fine-tune their job-hunting skills.
"I got immense value out of the overall setting, having other participants of varied backgrounds and being able to see others' experiences," said Applegate, who is pursuing admission to a data science program.
In the Marianist educational tradition, St. Mary's educators help students develop their talents, then combine their talents with those of others, to meet changing needs, said Kathe Lehman-Meyer, Director of the St. Mary's Academic Media Center, who teaches much of the programming.
"Participants learn to use their strengths in new ways, which gives them new practical skills, in addition to a personal sense of purpose," Lehman-Meyer said.
Watch a video about Rattler Readiness and Focus here: