Ana Paula Saravia had every intention of attending college in her home country of Peru — until a St. Mary's University admission counselor visited her Marianist high school on a recruiting visit.
Her friends and family encouraged her to apply for admission and a scholarship, although she doubted she would get accepted.
"They notified me a month before I graduated high school that I got the scholarship," she said. "It was an immediate 'yes.'"
As a recipient of the 2021 Presidential Award, Saravia was honored as a graduate who demonstrated a service to society, participated in co-curricular activities, promoted a positive influence in promotion of the St. Mary's mission, and possesses the knowledge and skills to be an effective leader.
Saravia, who has economics research soon to be published by Oxford University Press, graduated from high school at age 16 since Peruvian students undergo 11 years of schooling.
Two weeks after graduating, Saravia turned 17, packed her bags and flew to the United States to attend St. Mary's.
"I'm the youngest in my family and the only girl, so it was very hard for my parents to let me go," she said.
In addition to being a young transplant, Saravia was not confident in her English-speaking abilities. In Peru, English was just another class she took and, suddenly, she was at an American university.
"During my first semester, I'd ask everyone I met if they spoke Spanish," Saravia said. "I was very shy."
Growing up in Lima, Saravia attended the same Marianist school since age 5.
"I knew all the professors and grew up with all the same friends," she said. "[Moving to San Antonio] was sad, but I was able to get out of my shell completely."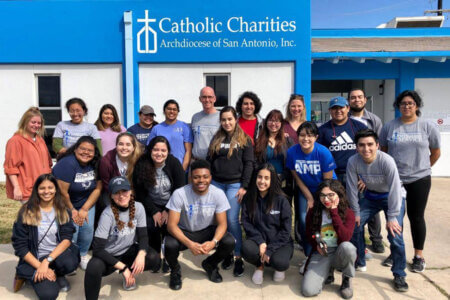 Saravia soon found her footing in her new home. In her Presidential Award application, she wrote that she quickly realized the Marianist values and charism were equally present at St. Mary's as they were in Peru.
To become even more involved, Saravia reached out to Economics Department Chair Steve Nivin, Ph.D., to inquire about extracurricular opportunities.
"We had a fairly lengthy discussion about her goals and the type of research in which she is interested," Nivin wrote in Saravia's Presidential Award recommendation letter. "She has a clear vision for her future and is very driven to get there."
Saravia began assisting Nivin and Assistant Professor of Economics Belinda Román, Ph.D., in a research project with the City of San Antonio. This led to another research project with Román, exploring the phenomenon of rotating savings and credit associations (ROSCAs), which involved doing field work in Peru during winter break.
"ROSCAs are a form of informal financial institution that offers its members the opportunity to save and have liquidity when needed for a certain project or expense," Saravia said. "It is a way for people excluded from the regular credit market to access loans."
Saravia and Román's research was chosen for a book to be published by Oxford University Press this year, titled Community economies in the Global South: Case studies about rotating savings and credit associations and economic cooperatives.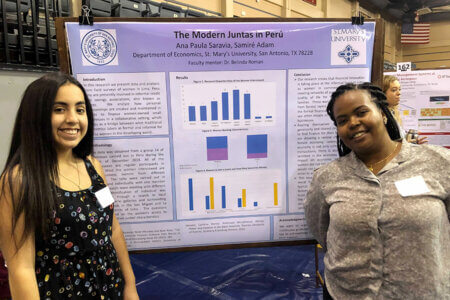 As soon as she learned her work would be published, her goal to become a researcher was solidified.
"It showed me all the opportunities I had and that my dreams could actually be real," Saravia said.
Another dream of hers became a reality when she was accepted to her first-choice post-graduate program at Johns Hopkins University to pursue a Ph.D. in Economics.
After graduating this Saturday, Saravia will move to Baltimore. She is nervous, but also now experienced in making her home in new places.
"It's just about having the energy and a positive mindset," she said.
Saravia plans to study economic development with a focus on Latin America and eventually advise policymaking in Peru.
"Since I'm from there, I know all the difficult situations the country experiences," she said. "I know I could help by doing research and creating policies that promote equality."