December 13, 2021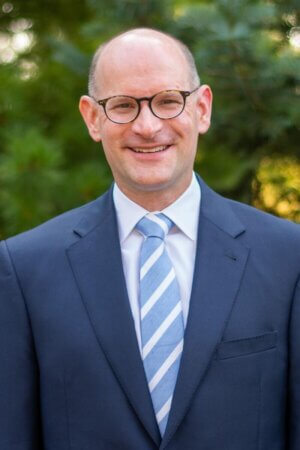 Following a highly successful national search and the unanimous support of the St. Mary's Board of Trustees, President Thomas M. Mengler, J.D., today announced the appointment of Jason Pierce, Ph.D., to the position of Provost and Executive Vice President for Academic Affairs effective June 1, 2022.
The search committee of outstanding University leadership and faculty, led by Leona Pallansch, Ph.D., Interim Dean of the College of Arts, Humanities and Social Sciences, presented four finalist candidates. The four finalists were selected from the 16 semifinalists identified out of the overall pool of 76 interested candidates.
"Based on my interviews, reference checks and feedback from members of the search committee, Board of Trustees and campus community, I am confident Jason is a great fit for St. Mary's University and its Catholic and Marianist mission," Mengler said.
Currently, Pierce is the Dean of the College of Arts and Sciences at the University of Dayton, which he has held for the past eight years. He is well-positioned to step into the Provost position coming from a college equivalent in overall size — student enrollment and faculty — to St. Mary's. The College of Arts and Sciences is Dayton's largest academic unit and, importantly, includes departments in the natural sciences, arts, humanities and social sciences.
Pierce has been a successful chief academic administrator. Those successes include establishing three new university-wide and mission-centric interdisciplinary research centers — Human Rights Center, Hanley Sustainability Institute, and the Integrative Science and Engineering Center — and several new academic programs and undergraduate degrees; and leading efforts to develop a partnership with the National Hispanic Institute to advance Dayton's commitment to diversity, equity and inclusion. Pierce also has significant fundraising experience that led to establishing a new Ethics and Leadership initiative and building a new University Center for the Arts and the Hanley Sustainability Institute.
Most importantly, Pierce is a good mission-fit for St. Mary's University, Mengler said. He spent his formative years in the Rio Grande Valley (Brownsville, Texas) and completed his undergraduate and graduate degrees in Texas. After earning his Ph.D., he joined the faculty at the University of Dayton, where he has been for the past 20 years, deepening his affinity for the Marianist educational mission.
"Jason's personal and professional experiences have provided him with a commitment and understanding of how to help our students in their educational and faith journey at St. Mary's," Mengler said. "He also understands the requirement for hiring, retaining and supporting faculty and staff who embrace St. Mary's Catholic and Marianist identity and work to continue the mission."
Mengler expressed gratitude toward Bill Buhrman, Ph.D., for his leadership and willingness to continue serving as Interim Provost until Pierce arrives in June. Buhrman has been an extraordinary leader whose innovative thinking and decisive management style have been critical to our success in pivoting during the pandemic.
"I am also grateful to the search committee for the many hours they have dedicated to conducting a successful search process," Mengler said. "Please join me in welcoming Jason, his wife Emily, and their children, Daniel and Vivian, to our St. Mary's community."