October 11, 2021
Areas of study include Mexican American Studies, Theology and Sports Management
St. Mary's University has approved two new minors and two new certificates to offer its students in the areas of Mexican American Studies, Theology and Sports Management.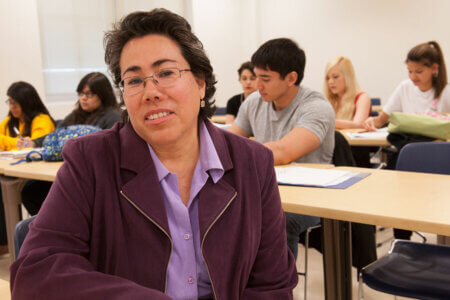 Available starting Fall 2021, undergraduate students can now obtain either a minor or a certificate in Mexican American Studies. The minor consists of 18 credit hours and the certificate is completed in 15 hours. Both courses of study allow students to learn more about Mexican American culture, history and politics.
Professor of Political Science Arturo Vega (B.A. '81, M.A., '83), Ph.D., said both the minor and the certificate serve several purposes — from helping Mexican American students explore their identity to providing more insight into the heritage, history, communities and customs of the fastest-growing population in the country.
"If you want to work in this town, if you want to work in this community, if you want to work in Texas, you need to know something about this population," Vega said.
Theology and Biblical Studies
For graduate students looking to expand their knowledge in theology, two post-graduate certificates are now available. One certificate focuses on Theology while the second is offered in Biblical Studies.
Both courses require 12 credit hours and students can apply the courses toward a Master of Arts in Theology.
A certificate can be used to expand knowledge in a religious setting, said Allison Gray, Ph.D., Associate Professor of Theology and the Graduate Theology Program Director.
Gray added that students in other graduate programs could use the certificates to show knowledge in these areas combined with their respective fields of study.
"Students who are studying psychology might want to know how religion affects the way people make decisions," Gray said. "And a certificate is a great way to show to an employer 'Hey, I have this background in another field and enough knowledge to talk about it intelligently.'"
Finally, the Greehey School of Business is in the process of launching a new minor in Sports Management, which will initially be available to Exercise and Sports Science majors.  
The minor will specifically help students pursuing a degree in Exercise and Sports Science obtain an understanding of the business side of sports, said Mathew Joseph, Ph.D., Emil C.E. Jurica Distinguished Professor of Marketing.
The 18-hour minor at St. Mary's would require the student to take nine hours in a sports-related course.
"Learning more about sports-related tourism, or how sponsorships work is a big reason this minor could help someone," Joseph said.