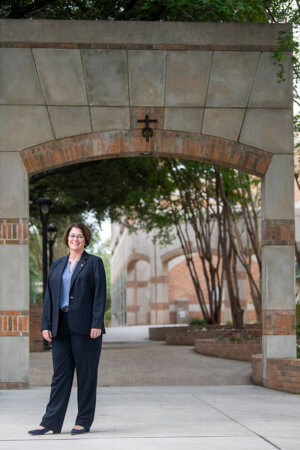 The mark of a great law school to Patricia Roberts, J.D., is weaving values of service into the educational mission, while training skilled, competent lawyers — both ethical and formed in faith.
Though only seven months into her deanship of the St. Mary's University School of Law, she said the campus, which is home to these ideals, already feels like her home as well.
After all, she said, St. Mary's Law has similar values to her alma mater and former employer, William & Mary Law School in Williamsburg, Virginia.
"Their mission and identity centered around the idea of creating citizen lawyers, as Thomas Jefferson originally foresaw. We have a responsibility to others," Roberts said.
It is this sentiment she saw practiced by faculty and staff at St. Mary's, especially during the pandemic.
"Despite really trying times, and a requirement that we reevaluate the way we've always done things, everyone stepped up 100% to make sure we were ready for our students," Roberts said. "We didn't have to ask, 'Will you help us do this?' Everyone just did it."
Since age 12, Roberts knew she wanted to become a lawyer. She remembered being struck by the ending of the movie, And Justice for All, starring Al Pacino.
"I was just devastated by the idea that the law could get it wrong, that the system could be that broken,"
she recalled.
After earning her bachelor's degrees in biology and psychology from what was then Randolph-Macon Woman's College in Lynchburg, Virginia, she went straight to law school at William & Mary.
"I approached my studies very much like an undergraduate. What I didn't realize at the time is it's more about application and less about memorization," Roberts said. "The tendency is to say, 'Oh, here's the answer,' when the law is often never that simple."
As the first in her family to attend law school, Roberts didn't have any family members who could offer her advice on how to approach legal studies. She earned her J.D. with guidance from faculty and administrators at William & Mary and by utilizing resources outside the law school, which inspired her to build stronger mentorship programs at St. Mary's Law.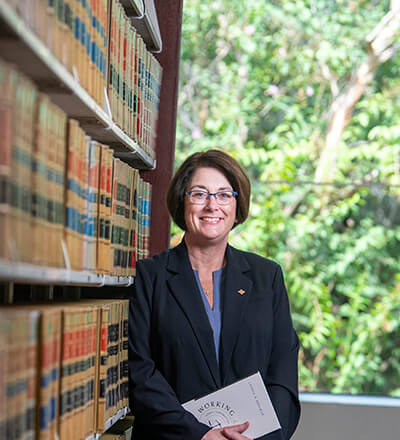 For eight years, Roberts practiced civil litigation: insurance law, personal injury and medical malpractice cases. Yet she felt she was not making the kind of impact on people's lives for which she hoped.
"I wanted to help people solve problems, help get them out of trouble. But what I found was there was less of that and more adversarial fighting with opposing counsel," Roberts said. "It was more about a scorched-earth policy than finding a solution. I don't mind conflict when it's necessary, but I do mind conflict for the sake of conflict."
This prompted her to start teaching at her alma mater as an adjunct professor. She loved it and became Assistant Dean for Academic Programs when a position opened in 2000. That experience developed into a passion for pro bono work, especially veterans' issues. Her closest friend served in Vietnam, her father served in the U.S. Army Reserve, her father-in-law in the U.S. Army and her husband in the U.S. Navy. In talking with more veterans, her desire to help them only grew.
"Once you sit down with veterans and you listen to the sacrifices that they and their families have made, you understand the tremendous complexity they go through in order to obtain benefits to which they're entitled," Roberts said. "And you hear the selflessness that they continue to have when you're pursuing their claim. They're always worried about other veterans, veterans who had it worse than them."
She started Military Mondays at William & Mary, a program that provides advice and counsel to veterans
in Starbucks locations throughout the country, and was the inaugural president of the Board of Directors
of the National Law School Veterans Clinic Consortium. She served on several boards in Virginia, and
frequently speaks on veterans' issues and access to justice nationwide.
She eventually became William & Mary Law's Director of Clinical Programs in 2008, Clinical Professor of Law in 2014 and Vice Dean in 2017, before coming to St. Mary's in June as the new School of Law Dean and Charles E. Cantú Distinguished Professor of Law.
Though she doesn't reflect on it often, Roberts recognizes how fortunate she is to be in a leadership position in a field long dominated by men. She sees opportunities for female leaders opening up more
and more.
"For every woman who does the job well, she's paved the way for the next generation," Roberts said.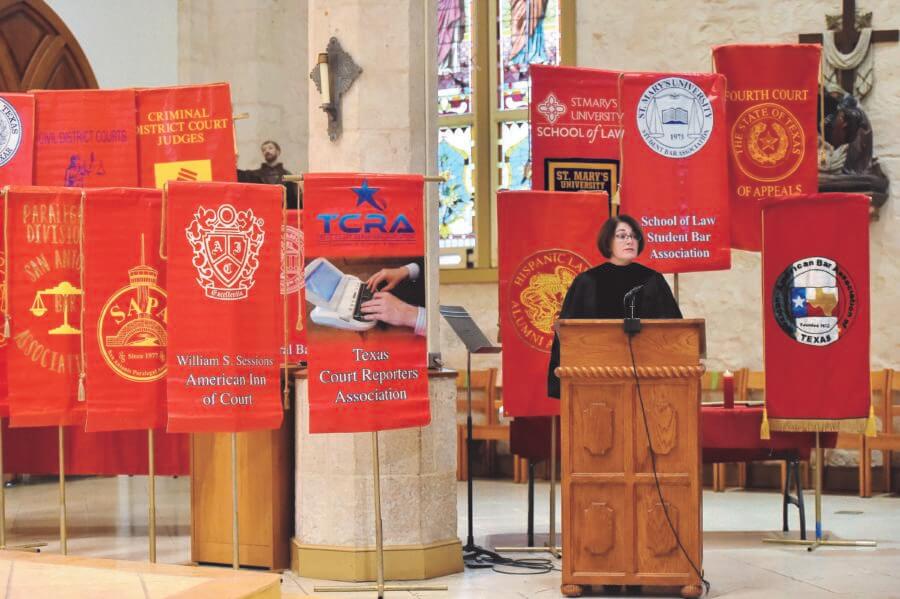 Even before Roberts arrived on campus, her commitment to diversity, equity, inclusion and the success of St. Mary's Law was clear, said Robin Thorner, J.D., Assistant Dean of Career Services.
"She values each member of the law school community, including our students, staff, faculty and alumni; listens to what they have to say; and supports them in their personal and professional development," Thorner said. "She also recognizes where we have opportunities for growth, and isn't afraid to embrace our challenges and work hard to address them head-on."
Roberts has already identified five major goals she feels will strengthen St. Mary's Law.
Her first goal is to continue enrolling diverse student populations, including first-generation students from minority backgrounds and nontraditional students. Already, Roberts has taken steps toward encouraging diverse student population growth by creating the Dean's Advisory Committee for Diversity, Equity and Inclusion, which aims to find ways to increase diversity among faculty, staff and students.
"We live in a diverse community, and we just want to make sure we're serving the community around us," said Alan K. Haynes, J.D., committee co-chair and Assistant Dean for Law Student Affairs. "Part of our job is to make sure we're touting the successes we do have in terms of working with communities of color, and doing our best to develop what we need to increase our outreach to other groups, other people who would be outstanding lawyers."
But enrolling more students of diverse backgrounds is not enough. It's important to ensure that support is in place through the Law Success Program and curriculum so every admitted student can succeed academically and pass the bar, Roberts said.
She also aims to increase the School of Law's engagement with alumni, improve annual giving to more than 6% and to raise funds to renovate the Law Courtroom, particularly in support of the Advocacy Program's continued success.
Finally, Roberts aims to influence the School of Law's regional and national reputation by highlighting the impact of the faculty's accomplishments.
"I am delighted by Dean Roberts' embrace of the St. Mary's mission, enthusiasm for engaging our law alumni and her high expectations for our students and the national rank and reputation of the School of Law," said University President Thomas M. Mengler, J.D. "I cannot imagine becoming dean in the midst of a global pandemic, but Patty has been tireless in planning with her colleagues a highly successful fall semester."
Faith is an integral part of Roberts' character and has helped her connect with the University's mission. She believes it embodies all the characteristics that make a good lawyer: honesty, integrity, a dedication to service and compassion for others. "We are meant to serve others in this profession," Roberts said. "Faith can be the inspiration for becoming a lawyer, and it can serve as a compass while you are a lawyer."