May 6, 2021
Senior Sofia Ruescas earns individual title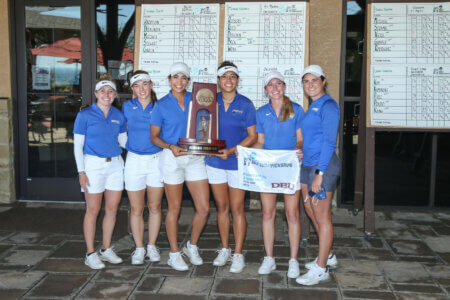 The St. Mary's Women's Golf team led from start to finish at the 2021 NCAA Division II West Regional to capture the programs' first-ever regional title. The Rattlers shot 874 (+10) to finish 16 strokes ahead of the field.
Sofia Ruescas continued to play her best golf of the year as the senior carded a three-under 69 in the final round. Her tournament total of six-under 210 earned her top medalist honors. Just as the Rattlers did, Ruescas held the lead after each of the first two rounds on her way to her first NCAA Regional Championship.
Monica Dibildox climbed two spots on the leaderboard to finish in a tie for fourth-place, her fifth top-five finish of the season. Dibildox carded her best round of the tournament on day three, shooting a one-under 71.
The third of three Rattlers to finish in the top-10 was Estelle Beck. The sophomore finished in a tie for sixth with two rounds of 74 and a round of 72. Beck finished with seven birdies and 35 pars over three rounds.
Rebecca Reed finished in 19th place with a tournament total of 228 (75-77-76). Reed finished the tournament with 35 pars. Jordyn Wray carded a one-under 35 on the back nine to finish with a one-over 73 in the final round. Wray moved up seven spots to finish in 35th in her first NCAA Regional appearance.
The win secured the Rattlers' spot in the NCAA Division II National Championship. The Championship will be held at TPC Michigan in Dearborn, Michigan, May 11-15.