Growing up, many children are told they can be anything. Rachel Huron (B.A. '21) decided she wanted to be anyone.  
The St. Mary's University alumna, who graduated Dec. 11 with a degree in Communications Studies, also earned a minor in Drama.
Now in the process of applying to graduate schools to pursue a Master of Fine Arts, Huron has recently been accepted to the American Academy of Dramatic Arts in Los Angeles, where notable alumni include Jessica Chastain, Paul Rudd and Danny DeVito. She still has three more auditions on the horizon.
Huron dreams of taking her acting talents to both films and television, hoping to eventually become recognized as an actress who disappears into her roles.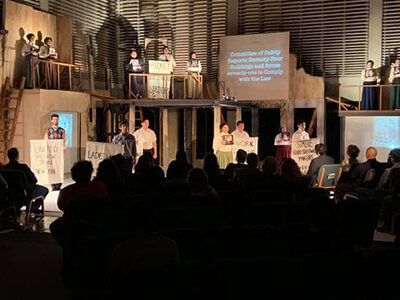 "I just want to be able to really show the talent I have to make people believe I am that character on screen," she said.
Huron's love for acting started at age 5 when, when her mom put on a copy of the film Beetlejuice. Knowing actor Michael Keaton for his work in Batman, Huron at that time had a challenging time grasping the idea the actor was in two different movies.
"It was the chameleon-like abilities he had and I just became so fascinated with it," Huron said. "I knew I wanted to be able to do that for a living."
While in high school and applying for college, St. Mary's was not a school Huron thought she would be able to attend because of finances. However, a visit with an admissions advisor, and learning of several scholarships, convinced her to apply.
During her time at St. Mary's, Huron said her professors and staff never made her feel like a number and were always welcoming. When classes went virtual during the COVID-19 pandemic, coming back to campus with classmates was like picking up where everyone left off.
"I just want to be able to really show the talent I have to make people believe I am that character on screen."

Rachel Huron
"Whether it be with school or financial aid, you feel at home," she said.
Chair of the Drama Department and Associate Professor of Drama Bernadette Hamilton-Brady, M.F.A., praised Huron as both an actress and an academic. She singled out Huron's Spring 2019 performance in the campus production of The Triangle Factory Fire Project as one example of her commitment to her craft.
"Her commitment to discerning and the learning processes is testament to her keen pursuit to better herself," Hamilton-Brady said. "She is always driven to find answers so she can overcome personal obstacles and find creative choices."
Huron said she is excited about continuing her education and pursuing acting. Receiving a lot of support from her family, Huron said her father is especially thrilled because she wrapped up her undergraduate degree.
"My dad has always said his dream is that if I win an Oscar, at the beginning of my speech I would say 'I would have been here four years earlier, but my dad made me get a degree,'" Huron said.