November 19, 2020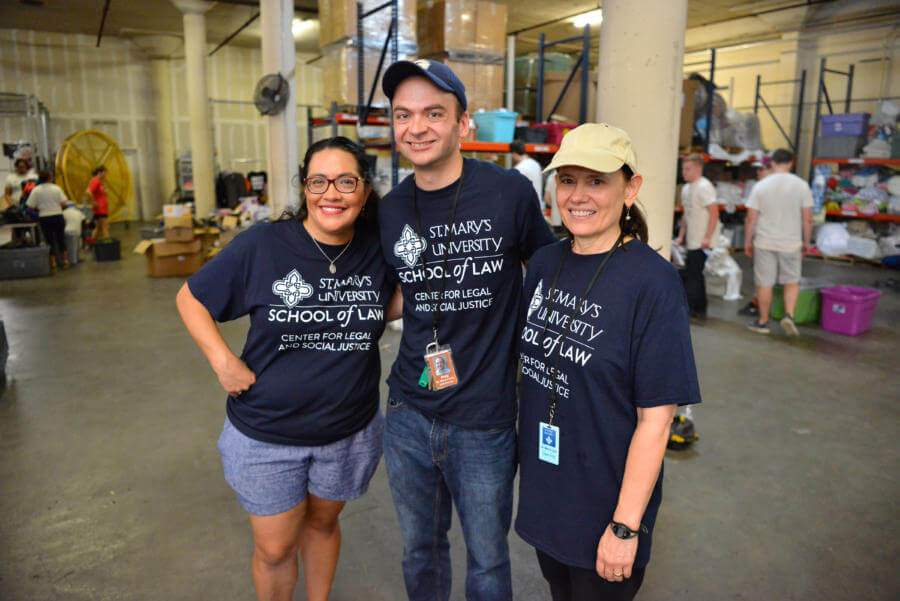 ­In recognition of the St. Mary's University School of Law's pro bono efforts this year, the Texas Access to Justice Commission awarded both institutional and individual awards to the St. Mary's Law community.
During the New Lawyer Induction Ceremony on Monday, Nov. 16, the Texas Access to Justice Commission recognized this culture of service, presenting the 2020 Law School Commitment to Service Award to the law school. Leslie Alvarez (J.D. '20) will be the recipient of the 2020 Law Student Pro Bono Award.
"St. Mary's University School of Law has created a culture of service for pro bono leadership through social justice programs, law review journals and social-justice-minded curricula," said Texas Supreme Court Justice Eva Guzman, J.D., during the virtual award announcement. "To continue their partnership with legal service providers across Texas, the school pivoted from in-person to virtual services over the past year."
Despite the COVID-19 pandemic, student engagement in public service rose to new heights in the 2019-2020 academic year. More than 9,880 pro bono and community service hours were recorded, an increase of over 5% from the previous year.
With this growth came new projects: a housing hotline for residents facing eviction; student-led organizations working to address workers' rights and racial injustice; and new partnerships with Lone Star Legal Aid.
Existing projects have also pivoted and flourished, including collaborations with Texas RioGrande Legal Aid, ID Recovery outreach at Haven for Hope, and income tax preparation for low- and moderate-income taxpayers.
"This recognition from the Texas Access to Justice Commission, a national leader on justice matters, is humbling," said Greg Zlotnick, J.D., Director of Pro Bono Programs. "We thank the Commission for recognizing the work of our students, faculty and staff, and look forward to continuing to contribute to expanding justice in Texas."
Despite numerous challenges, the School of Law has continued its work of developing practice-ready graduates with a commitment to justice.
As a recent St. Mary's Law alumna, Alvarez joined Equal Justice Works as a postgraduate fellow with Disability Rights Texas in the Rio Grande Valley.
"Leslie translated her dedication to working with individuals with disabilities into a breadth and depth of service that was impressive by any standard, let alone that of a law student," Zlotnick said. "Her undeniable drive to create a more just and inclusive community exemplify our University's mission and serve as an inspiration to her colleagues and clients alike, myself included."
Watch the virtual the Texas Access to Justice Commission announcement below.