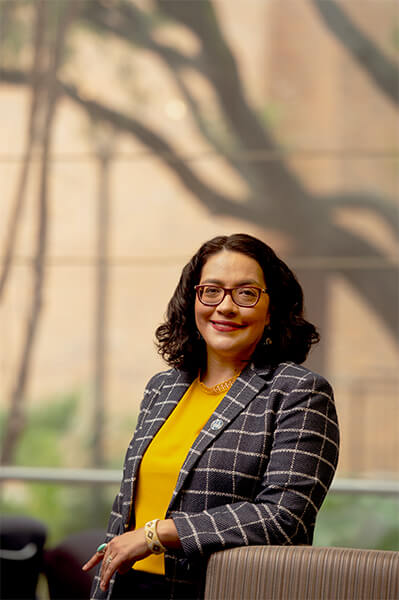 As the School of Law's Assistant Dean of Admissions, Cathy Casiano says her favorite time of year is seeing the new faces of each fall's incoming J.D. class.
"We don't know what the journey will look like, and there's an excitement in knowing that there's so much the future holds for them," Casiano said.
It's a feeling with which Casiano is well-acquainted, as a 2007 graduate of St. Mary's University's J.D. and MBA programs.
"I squeezed everything I could out of my experience. I was an editor of The Scholar: St. Mary's Law Review on Race and Social Justice, a member of the moot court team, took part in the Criminal Justice clinic, studied abroad in Innsbruck, Austria. You name it, I did it," Casiano said.
After graduation, Casiano practiced family law and criminal defense for seven years. It's all of these experiences that Casiano began referencing with prospective students when she first joined the St. Mary's Law admissions team in 2013.
"It allows me to tell prospective students that law school is as different (from undergraduate studies) as people say it is. It's difficult. But even if it's hard, it doesn't deter people because it's doable," she said.
As a recruiter, Casiano often travels, whether it's to other cities in Texas — Austin, Denton or El Paso, to name a few — or out of state, to places like Miami, New Orleans, Philadelphia and Washington, D.C.
Casiano loves talking to prospective J.D. students about St. Mary's Law, and when they enroll, she makes sure to keep the dialogue going.
Second-year J.D. student Elizabeth Duggan, who now works for Law Admissions as a student assistant, said Casiano was the reason she came to St. Mary's Law.
"I had applied late in the game and was very passionate about attending law school, but did not know where I would fit in," Duggan said. "She had a way of making me feel accepted and wanted. I know she has impacted so many lives the same way."
Second-year J.D. student Cameron Galvan feels similarly. He remembers when Casiano visited his undergraduate university, St. Edward's University, and how approachable she seemed.
"Since then, she has stayed in close contact with me and has assisted me with advice from her law school experiences on scheduling study time and balancing life problems," Galvan said.
"The bottom line, she is dedicated and is the cornerstone of the admissions team," Galvan said.
Casiano said she always maintains an open-door policy, adding "I'm invested in watching students on their journey."
It makes graduation an emotional moment for her.
"Some students, you'll see every day for three years, and then they're gone. Every spring, it's like you're a parent and your child is leaving the nest," Casiano said. "But you know they'll go on to do great things."