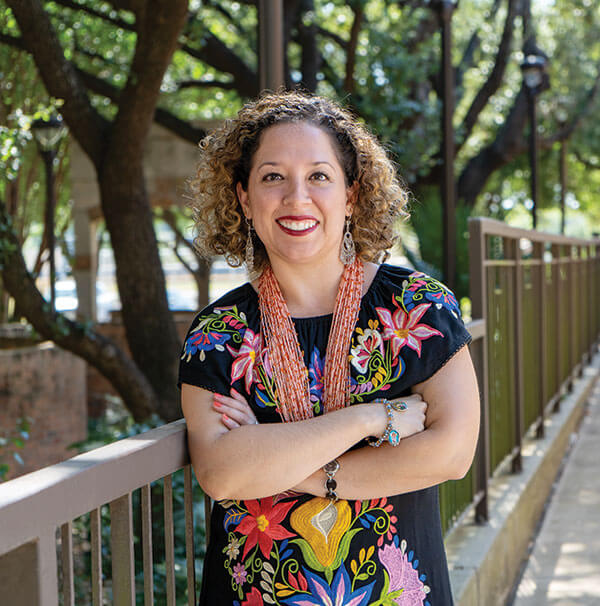 Every semester, Margaret Cantú-Sanchez, Ph.D. (B.A. '06, M.A. '07), hears students say, "I've never read anything by a Mexican American author." While this shocks her, it is an all too common experience among educators, even in a city as diverse as San Antonio, which is 64% Latino.
Cantú-Sanchez (B.A. '06, M.A. '07), an Instructor of English at St. Mary's University and a San Antonio native, is working hard to expand the canon of literature and open a dialogue about representation. She believes the canon continues to fall short, and that her students deserve to relate to what they read.
Be it the challenging novels of Nobel Prize-winning African American author Toni Morrison, or the cultural theories of Chicana scholar Gloria Anzaldúa, Cantú-Sanchez infuses her lectures with thinkers of color.
"Mexican American literature, and multicultural literature for that matter, speaks to my students because they're able to see themselves, their families and their culture," Cantú-Sanchez said. "Everyone needs to be exposed to this literature, whether they identify as Latino or not."
One way in which Cantú-Sanchez bolstered her mission was by creating and organizing the Mexican American Summer Studies Symposium — the inaugural event of which was held at St. Mary's in July 2019. The daylong symposium prepared local high school teachers for a new course, Ethnic Studies: An Overview of Americans of Mexican Descent, approved by the Texas State Board of Education in 2018.
"Margaret's Mexican American Studies Symposium last summer sparked a necessary conversation," said Refugio "Ito" Romo, Ph.D. (B.A. '83, M.A. '93), Professor of English Literature and Language.
Cantú-Sanchez hopes the new high school course will encourage young Mexican American students to explore their identity and relationship with the country's culture — just as her St. Mary's courses explore these themes in relationship with literature.
"We owe it to the younger generations, and to the generations of the future and the past, to know where we are from," said Luisa Ortiz, a senior Theology major who attended the symposium. "When I learn about Mexican American heritage, it makes me feel important, like I'm part of the conversation. I matter."
For students of Cantú-Sanchez who aren't Hispanic, the takeaways from her classes remain impactful.
"Margaret has a passion, not only for the content that she's teaching, but for the people in her department and her community," said Forest Lebaron, who earned her master's of English Literature and Language in May. "She wants us to relate to the materials, understand and, most of all, succeed."
"I use literature to help my students contemplate their own ideas of identity and how society can be a big influence on how we understand our identities," Cantú-Sanchez said. "Sometimes this can be positive. A lot of times, though, it can be negative because of stereotypes, prejudices and discrimination that have long existed."
Teaching for adaptation and change, then, is a foundation of Marianist education. It's why Cantú-Sanchez perceives events, such as last year's symposium, as necessary conversation-starters for the community.
"I feel a responsibility to my community to bring about social justice," she said. "One way I can do that is through teaching. In turn, I hope my students will go out and spread the word and make a tangible change in their community."