The Phenomenon of Religious Pilgrimage
by Anndria Flores (B.A. '12, M.A. '16)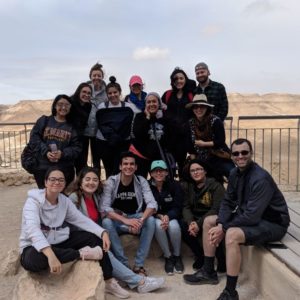 From following the steps of Jesus' crucifixion at Jerusalem's Via Dolorosa to visiting the Western Wall and the Dead Sea, 14 students in a Theology course this spring visited important Israeli sites of pilgrimage in the Christian, Catholic, Jewish and Islamic faith traditions.
With funding help from an anonymous donor, Sara Ronis, Ph.D., Assistant Professor of Theology, led the students abroad for the Phenomenon of Religious Pilgrimage course.
"I want our students to understand that there are different places around the world with different cultures so they're better prepared to be thoughtful and engaged citizens in the global world," Ronis said.