by Alex Z. Salinas (B.A. '11)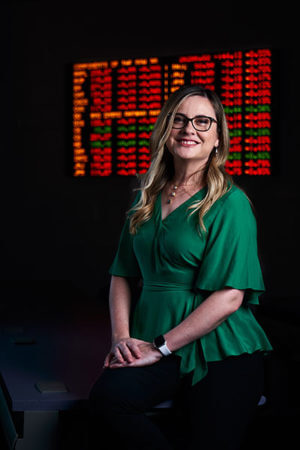 When Violeta Díaz, Ph.D., Associate Professor of Finance, arrived at St. Mary's University in 2016, she followed the money … into the classroom.
The Mexico native co-taught the Student Managed Portfolio class with now-retired Professor Richard Bauer, Ph.D., who launched the course in 2007 to give St. Mary's business students an opportunity to invest real money in companies — starting with a $1 million fund.
Díaz took over the course in Spring 2018 and made changes to the portfolio, which now sits at about $2.4 million.
"When I walked into it, we had 130 companies in the portfolio," she said. "With only 10 students in the class, I knew that would be impossible to manage, so we brought that number down" to 28 companies. She's also worked to increase the number of women in the traditionally male-majority course to 50%.
Diana Katerin Rocha Ramos (B.B.A. '19) called her and her classmates in the course "essentially stock analysts."
"It's a small class but a huge responsibility on us," Ramos said. "We researched and identified stocks that were undervalued, purchased them and hoped they grow over time."
Ramos said it was challenging "separating emotions of being a customer of a company" from being a financial analyst, for which "you must consider risks, and competitive advantages and disadvantages of a company."
Díaz redesigned the course so that student groups home in on different economic sectors — technology, consumer staples and health care. This allows them to focus on particular companies and deliver specialized reports to other sectors throughout the semester.
"I focus heavily on teaching how to research and use metrics, how to learn how a company makes money, and how to invest for the long run," Díaz said. "It's learning by doing, experiential learning."
In March, the class traveled to New York City to compete in its first Global Asset Management Education Forum.
For Rudy Martinez, senior Finance and Risk Management major, taking the Student Managed Portfolio class was a career-defining experience.
"Under Professor Díaz, the course is instrumental in shaping students within the Greehey School of Business into professionals who are poised for success in the financial services industry," he said.
Tanuja Singh, D.B.A., Dean of the Greehey School of Business, said Díaz's course emphasizes, significantly, "adaptive learning."
"As we look to the future of work, skills that enable students to solve complex problems and develop a solution-centric mindset are going to be increasingly more important," she said.