January 23, 2019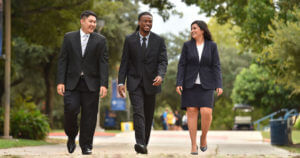 St. Mary's University is offering free assistance to small businesses through a program that helps local businesses and nonprofits while giving advanced students a hands-on learning experience.
The Small Business Institute within the Greehey School of Business at St. Mary's offers an in-depth consulting service for local businesses. Areas of expertise include accounting, entrepreneurship, finance, human resource management, information technology, international business and marketing. Senior business students, under the supervision of the business faculty, provide consulting services at no cost.
The Small Business Institute of the Greehey School of Business is accepting small business clients for the spring semester.
For more information or to apply for this free service, contact Greehey School of Business Professor and Small Business Institute Director Cody Cox, Ph.D., at 210-436-3806 or ccox9@stmarytx.edu.