October 21, 2019
Event to unite legal community through processions, music and ritual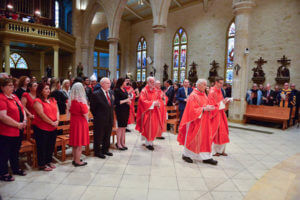 The San Antonio legal community will gather at San Fernando Cathedral on Thursday, Oct. 24, to take part in the centuries-old tradition of Red Mass celebrating the traditional fall start of the judicial year.
At 5:45 p.m., judges, legal organizations and representatives of the St. Mary's University School of Law will have a procession carrying bright red banners through Main Plaza to the Cathedral at 115 Main Plaza. The Mass will begin at 6 p.m. and is open to the public.
"The 800-year-old tradition of Red Mass provides the opportunity to reflect on the law profession as a calling," said Sister Grace Walle, St. Mary's University School of Law Chaplain and event organizer.
"As members of the legal community process into the cathedral, we view the many diverse organizations that contribute to the vitality of San Antonio's community by promoting public service and access to the legal system," Walle said.
The Most Rev. Gustavo García-Siller, M.Sp.S., Archbishop of San Antonio, will be the principal celebrant and homilist. Vincent R. Johnson, J.D., LL.D., Interim Dean of the St. Mary's University School of Law, will give the welcome remarks.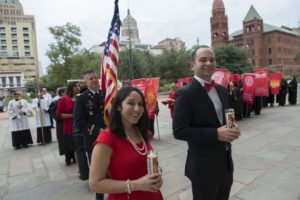 The Red Mass tradition dates to 1245 in Europe when both the bench and bar attended the Mass together at the beginning of each judicial session. The name references both the crimson robes worn by judges and red vestments worn by priests in honor of the Holy Spirit. Legal communities across the country celebrate Red Mass to request God's blessings and guidance on the administration of justice.
The St. Mary's University School of Law and the Catholic Lawyers' Guild of San Antonio revived the tradition 67 years ago and organize the annual event with representatives from San Antonio legal organizations, the judiciary and the State Legislature.
"Combining majestic processions and great music with high church rituals, Red Mass evokes the transcendence of religion, the mysteries of the medieval era and the hope that the rule of law can be used to build a better world," Johnson said.