by Anndria Flores (B.A. '12, M.A. '16)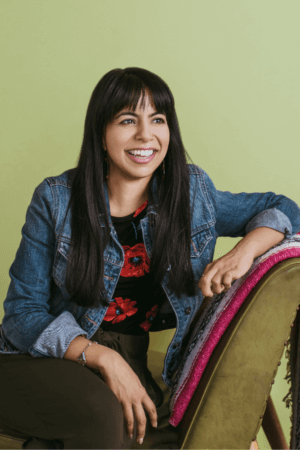 As director of community impact for SA2020, Kiran Bains is at the heart of San Antonio's commitment to propelling businesses and nonprofits to fulfill the city's vision: deliver quality services to the public and achieve prosperity.
Looking back, it is no wonder Bains (B.A. '06) dedicated her life to giving back, including stints with nongovernmental organizations in Bangladesh and Uganda. Since childhood, service has played a powerful role in her life.
In practicing her Sikh faith, she would volunteer with her mother in hospitals, nursing homes and libraries in San Antonio. These early experiences informed her ideas about community and affecting change. So when it came time to apply to college, her older sister Mona Bains (B.S. '01) suggested she consider St. Mary's University.
However, when the first-generation college student got in, she was unsure how to choose a major. Advising sessions with Mary Lynne Gasaway Hill, Ph.D., Professor of English Literature and Language, helped her narrow down her many interests to her true passions.
"It was an experience of feeling so seen by a professor," Bains said. "She beautifully met me where I was. I took strides thanks to that level of attention from a professor."
"She just pulsed with potential," Hill remembered of Bains, who chose an International Relations major.
That thread of "feeling seen" followed her throughout her time at St. Mary's. Mentors, such as Larry Hufford, Ph.D., Professor of International Relations, taught her life lessons, like recognizing the value of her parents' informal education and busting the cultural stereotypes with which she had grown up.
"I left St. Mary's feeling like I could just change the world," Bains said. "I have this conviction still today."
I left St. Mary's feeling like I could just change the world. I have this conviction still today.
Upon graduating, Bains received a fellowship from the Indian American Foundation to work for a nongovernmental organization in Bangladesh, helping with women's issues. Bains established a relationship rooted in trust with women in the community — an experience that influenced her admission to the Kroc Institute for International Peace Studies at the University of Notre Dame. Bains was one of only 30 students from around the globe accepted into the master's program in 2007.
While in graduate school, she participated in a six-month internship for a land rights organization in Kampala, Uganda. She fell in love with the Ugandans' spirit and kindness, which reminded her of home.
After graduate school, Bains returned to Uganda on a yearlong fellowship helping refugees resettle and begin farming after years in camps.
"There was an entire generation of people born in camps who were now starting to return home," she said. "Farmers weren't farming for decades and now their children's children had no idea how to farm."
Along with teams of Ugandans, Bains helped create systems for elders and other community members to share knowledge from their oral traditions about farming and reclaiming land.
When her fellowship ended, Bains worked with a nonprofit in Brooklyn, New York, investing in research across Africa. She also worked as a teacher in New York City public schools. But her ultimate goal was still to return to San Antonio.
As she Googled jobs, she spotted a position for a diversity and inclusion officer for the City of San Antonio. She landed it and began helping the City uphold its non-discrimination ordinance. As San Antonio's first chief equity officer, Bains played a role in a larger movement by local governments serious about advancing equity — one of three in the southern U.S.
Now as the director of community impact for SA2020, she gives back to the community she said gave so much to her. Created in 2010, SA2020 is a nonprofit working with community partners to align people with a community-wide vision for San Antonio.
"I get to meet people who are doing so many different kinds of things to make San Antonio better. It is hugely inspiring, powerful and motivating," she said.
"St. Mary's taught me that we can affect change in our community on different levels. The work that I do in my community, in my city, has a ripple effect across the country and the world."