February 13, 2019
Conversation to focus on sex trafficking survivor's story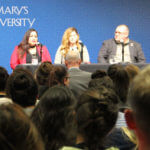 More than 25 million people globally are victims of modern-day slavery. In Texas, 234,000 people fall victim to labor trafficking and another 79,000 youths are victims of sex trafficking, according to the Texas Attorney General's Office.
St. Mary's University will host an event titled, "Modern Day Slavery: A Conversation with a Survivor of Human Trafficking," on Wednesday, Feb. 20, to raise awareness about human trafficking in San Antonio and South Texas.
The discussion, which is free and open to the public, is organized by James Greenaway, Ph.D., who holds the Charles H. Miller, M.D., Chair in Human Dignity, and the St. Mary's Office of Civic Engagement. It will last from 5 to 6:30 p.m. in the University Center, Conference Room A.
"Our city remains a hub of human trafficking, countless victims of which are used for sex. This is modern-day slavery, and the market for it has never been bigger," Greenaway said. "The trafficked live among us in our neighborhoods, but we don't see them. When they speak, we don't hear them. It's easy to forget them, and it's easy not to care. St. Mary's will give a platform to the voiceless so that they may speak. And so that we may listen."
During the conversation, Carol, a survivor of sex trafficking, will tell her story. Afterward, Brenya Twumasi, J.D., a UTSA psychology lecturer who works in the field, will discuss trafficking in San Antonio and the region.