by Alex Z. Salinas (B.A. '11)
Selling chocolates, baked goods and lemonade at age 8. Buying gumball machines to expand profits at 12. Then, purchasing vending machines at age 16.
Perhaps her entrepreneurial spirit comes from her grocery store-owning parents, but Alejandra Zertuche (B.S. '08, M.B.A. '11) has always been all about business.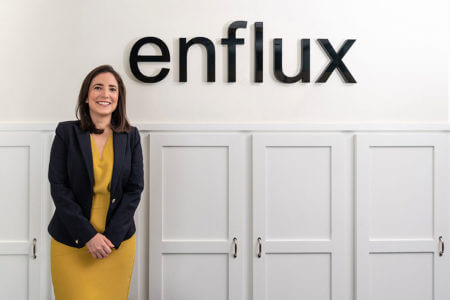 Today, she is CEO of San Antonio-based tech startup Enflux, a company that collects raw data from health professional schools and then "transforms it into actionable information."
According to Zertuche, they convert the information they extract into interactive dashboards, which then help clients identify at-risk students so they can create personal action plans to improve their academic performance.
Astoundingly, Zertuche has been with Enflux for just two years, hired as a senior business analyst in February 2017 when the company was founded. She was discovered by Enflux through LinkedIn — a testament to her business acumen combined with her engineering expertise, which she kept up to date on her professional profile.
Six months later, Zertuche was promoted to vice president, and then to CEO after another six months.
Before Enflux, Zertuche worked for three years as an industrial engineer for a German company manufacturing plastic parts for the automobile industry. She also spent six years at the University of the Incarnate Word Feik School of Pharmacy as an academic assessment analyst. The position spurred her interest in data collection for higher education institutions, which would later create business opportunities for her and for Enflux.
For Zertuche — who was born in Nuevo Laredo, Mexico, and learned English at age 14 while attending high school in Laredo — St. Mary's University became the door-opening epicenter for the self-proclaimed "data nerd" who studied Industrial Engineering.
"I fell in love with the program and the students in my group," she said. "We supported each other in every way."
When it came time for Zertuche to take computer programming classes — a subject with which she was completely unfamiliar — she happened to meet Professor of Computer Science Carol Luckhardt Redfield, Ph.D., while playing on-campus Ultimate Frisbee matches Redfield coordinated.
"Dr. Redfield found me a mentor to help me with the courses. If it wasn't for her, I would've never passed them," Zertuche said. "That's the kind of stuff you don't really find anywhere else."
Reflecting on two decades of teaching at St. Mary's, Redfield agreed with Zertuche.
"I do think that we help each other — students and faculty — with whatever we need in life, from school to work to family," she said.
With an engineering education under her belt, it didn't take long for Zertuche to return to St. Mary's to earn her MBA, gaining knowledge in how to run a business.
"As a first-time CEO, the finance and business strategy courses helped me fully understand and evaluate financials and build key business strategies, such as raising money, marketing products and setting pricing models," she said.
Today, Zertuche is applying technical expertise and "the dynamics of working as a team" to manage a group of 14 at Enflux — Zertuche being the youngest at age 34.
While she is energetic and strives to achieve work-life balance, Zertuche admitted that being CEO of a company that wants to grow is 24/7.
Between traveling for business, attending community events, speaking at Geekdom, serving on the board of directors for a local TransPecos Bank and visiting schools to talk to young girls interested in coding, Zertuche's primary focus is continuing to build Enflux by helping "educators who want to leverage and maximize their data to make informed decisions."
"It's rewarding to be CEO of a company, and I'm working hard to make our clients happy and bring value to their work," she said.